By Sakina Mohamed
KUALA LUMPUR, Jan 30 (Bernama) -- For Chinese Malaysians who have embraced Islam, being Chinese and celebrating the New Year with their family is still a big part of their identity.
Many may wonder how Chinese families with members of different faiths celebrate the Chinese New Year (CNY), especially when there are dietary restrictions and religious obligations to be observed.
Muhammad Adrian Wong, 38, from Klang, tells Bernama that it is all about adapting to and accepting each other's differences.
CELEBRATING CHINESE NEW YEAR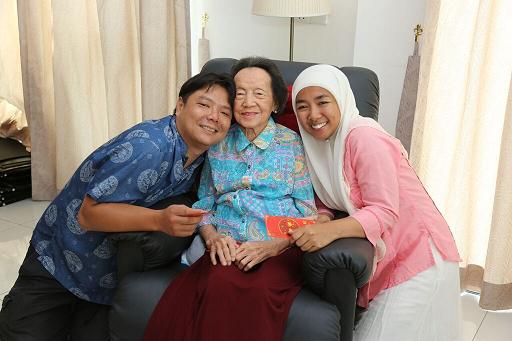 The "grand reunion dinner", held on the eve of the CNY, is regarded as the most important meal of the year.
This is a time when family members, from all over the world, would come together to sit around a table and reconnect over a sumptuous feast and laughter.
Such dinners would understandably require a suitable location and plenty of preparation. Many Chinese restaurants are equipped for this.
That is why even after embracing Islam, there are times when Adrian still celebrates CNY with his family at non-halal restaurants.
He remembers the first time his family tried, for fun, holding the CNY reunion dinner at a halal restaurant.
"We quickly learned that there was no way we were going to fit a family of 26 in a Minang restaurant although we did that one year, for our amusement," he recalled.
Eating halal during reunion dinners at a non-halal restaurant was a non-issue for Adrian and his wife, as they would simply bring halal food from home.
"These days, my mother would simply prepare (a separate) halal meal for us," he said.
His family has also been mindful of other religious obligations, such as observing the five daily prayers.
"Finding time to perform the Maghrib prayers was a little tricky at first, as Chinese dinners normally start at around 7pm or 7.30pm (which coincides with the prayer time).
"However, these days, my family would hold dinner at 8pm onwards as they understand that the window for Maghrib prayers is short," he shared.
LEARNING ABOUT EACH OTHER
Adrian embraced Islam in May 2007 and married Siti Nurzaini Yahya a month later.
He understood that becoming Muslim did not mean abandoning his ethnicity, family or culture.
He remembered the misconceptions his own family had when he first converted.
"In the beginning, my granny even thought I was going to 'masuk Melayu' (become a Malay)," he said.
He described the first CNY celebration with his wife as an awkward one.
"Cousins and relatives were cautious and stared awkwardly. Some had rather fascinating questions about celebrating CNY as a Malay. It was rather hilarious.
"However, my wife enjoyed the cultural exchange and not having to argue whose kampung to go back to during Hari Raya. So that's a plus!" he laughed.
His wife, however, had a different recollection.
"I don't remember it being awkward. I remember that I was curious about what the 'makan besar' (grand reunion dinner) would be like, more so participating in one.
"I remember clearly how accommodating everybody was and how they did their best to make me feel comfortable," said the 38-year-old from Kota Bharu.
She recalled how Adrian's family placed a spread of halal food on a separate table as they were concerned that she would become uncomfortable eating from a table with non-halal food. They also provided her with detailed explanation of what each food were and where they came from.
"I couldn't help but feel bad for them going out of their way just to accommodate Adrian and I. But nowadays his family is way more relaxed when it comes to CNY dinners because I guess we have found a groove that fits everybody.
"Apart from that, I also remember being slightly nervous for fear of doing anything that might offend them due to my ignorance but I think I did okay," she laughed, adding that her husband had briefed her the do's and don'ts beforehand.
ADAPTING
His family was initially concerned that practicing Islam would be difficult for him.
"It was hard for me at first, having lived life as a non-Muslim Chinese and eating almost everything with four legs that moved!" he admitted, laughing.
He especially missed "bak-kwa" (Chinese sweet and salty dried meat traditionally made using pork).
"Food is huge for us Chinese. But I've taken on a new diet which involves vegetarian food and halal Chinese cuisines from mainland China," he said.
STRENGTHENING FAMILY TIES
This year, the couple and their two children celebrated CNY in Sentul, where his 92-year-old grandmother resides.
Adrian is thankful that in addition to his family's love and acceptance, both his parents and parents-in-law get along very well.
"They make it a point to wish each other celebratory messages during occasions and birthdays. Occasionally I'm the middle person exchanging seedlings and fruit trees, such as of bananas and lemons, from my wife's hometown of Kota Bharu," he said.
As a Malaysian Chinese Muslim, he hoped to experience in the coming years more unity in diversity, throughout the community, nation and world.
"I think we are all unique and different. But we are one race - the human race. Instead of differentiating, we should find common grounds and celebrate diversity."
-- BERNAMA