By Sakini Mohd Said
(This article is released in conjunction with International Day for People with Disabilities which falls on Dec 3.)
PETALING JAYA (Bernama) -- Administrative assistant Nurhawa Aina Mohd regretted not learning sign language when her sister who is deaf met with an accident and was hospitalised.
"My sister was in pain and under a lot of stress as well as she was unable to explain to the doctor and nurses about the pain she was experiencing.
"I was of no help as I didn't know sign language and neither did my other family members," said Nurhawa Aina, 24.
She said her sister Nur Aishah, 26, was returning home with a friend from work in Shah Alam sometime in 2016 when a car hit their motorcycle from the back. Nur Aishah sustained a broken leg which had to be operated.
Nurhawa Aina said the doctor and nurses at the hospital resorted to using hand gestures to communicate with her sister and get the information they needed during the treatment process.
"That was the incident that made me and my family realise how important it was for us to know sign language," she said.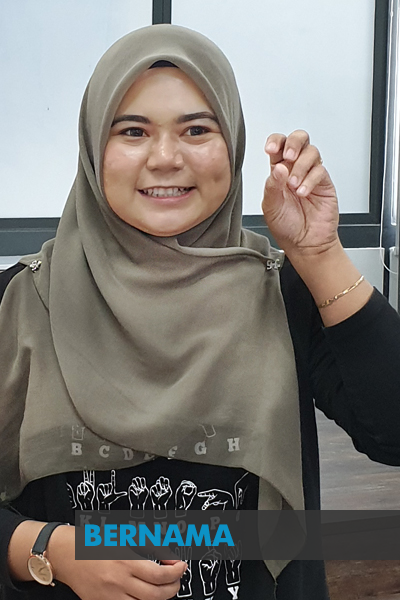 Nurhawa Aina Mohd. --fotoBERNAMA (2019) ALL RIGHTS RESERVED
CHALLENGING
Sign language is, in general, a system of communication used by the deaf that consists of hand, body and lip movements to convey information.
Nurhawa Aina said she also knew of a deaf couple who have a normal five-year-old son but the boy often feels frustrated as his parents do not respond to him when he talks to them.
"Hopefully he gets to learn sign language when he is a bit older so that he can communicate properly with his parents," she said.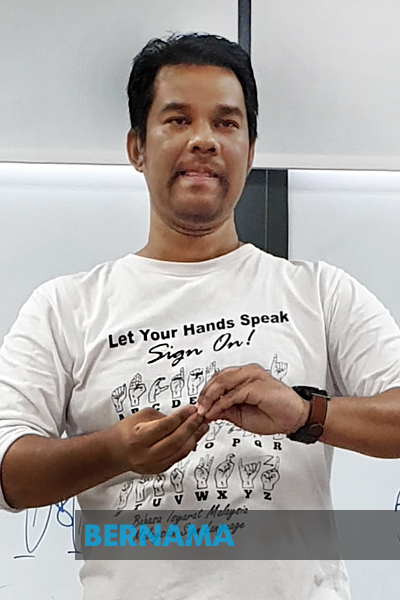 Mohd Armi Rusli. --fotoBERNAMA (2019) ALL RIGHTS RESERVED
She also said finding an institution or centre that taught sign language to adults was very challenging as it was only taught at special schools for the deaf.
"I tried looking for one in Kuala Lumpur and even in Kuala Berang (in Terengganu) where my family lives but there was no such centre. I was on the verge of giving up when I found out one of my bosses at work had learnt sign language through a programme known as Sign On," she said.
SIGN ON
Sign On was introduced in 2013 by Mohd Armi Rusli, 36, who is himself hearing-impaired and has to wear a hearing aid. He conducts free sign language classes for the public on the last Saturday of the month at the Industrial Training and Rehabilitation Centre for People with Disabilities in Bangi, Selangor.
The two-hour class introduces the learners to the basics of sign language and how to use it to denote numbers, alphabets, family and others.
Mohd Armi, who runs an online business, said his intention was to see able-bodied Malaysians being able to communicate in sign language in order to form an inclusive society that promotes integration and forges closer relationships between people with disabilities and normal individuals.
Nurhawa Aina, who attended the sign language classes at the end of 2018, is now one of the volunteer instructors for the Sign On programme.
"I'm not all that skilled in sign language yet but at least I can communicate with my sister and one of my brothers who is also deaf," she said.
Mohd Armi said when he started his sign language class, he was the only instructor but now he has over 200 volunteer instructors who are all his ex-students.
"There is a growing awareness among the people on the importance of knowing sign language. I also get requests to hold classes in Sarawak and Melaka," he said.
Translated by Rema Nambiar
BERNAMA