From Mokhtar Hussain
SEOUL, Nov 8 -- South Korean President Moon Jae-in has urged news agencies in the Asia-Pacific region to provide continued attention and support towards solving the long-term Korean conflict.
"Peace on the Korean peninsula is a starting point for achieving a peace community of co-prosperity," he said as he greeted leaders of 32 news agencies from 28 countries at the Blue House (the Korean Presidential Office) here Thursday.
The delegates are attending the 17th Organisation of Asia-Pacific News Agencies (OANA) General Assembly which began in Seoul Thursday.
"There are still many hurdles to overcome, (but) peace is the way (we) must go not just for Korea and East Asia but also for the entire world," Yonhap, the host news agency, quoted Moon as saying at the meeting.
The 2018-19 Korean peace process was initiated to resolve conflict and denuclearise the Korean peninsula with a series of summits held between North Korean leader Kim Jong-un, President Moon Jae-in and President Donald Trump of the United States.
OANA president Aslan Aslanov, of the Azerbaijan state news agency Azertac, said that as journalists, OANA members follow closely the developments on the Korean peninsula through Yonhap news agency.
He wished President Moon success in the peace process, and said OANA is also commited to peace and understanding among nations.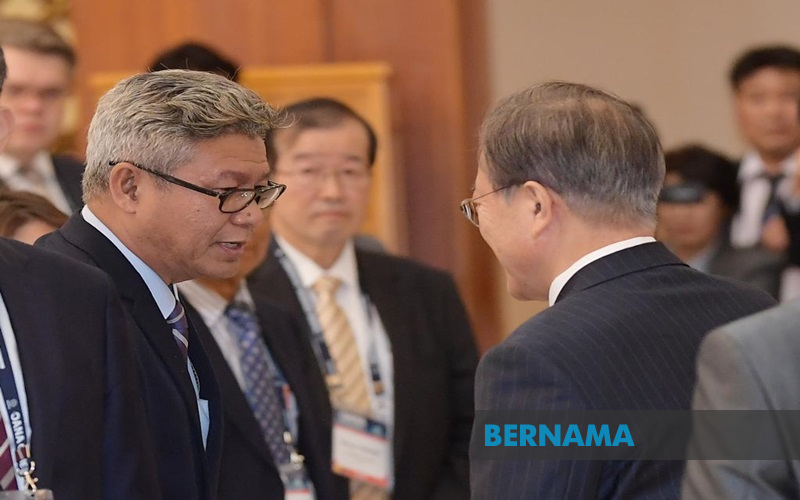 Datuk Mokhtar Hussain (left) greets South Korean President Moon Jae-in at the Blue House in Seoul.
Sergei Mikhailov, head of TASS news agency, said peace on the Korean peninsula is important to peace and stability in the world.
OANA was formed in 1961 on the initiative of UNESCO to facilitate free exchange of news among the news agencies in the region.
Yonhap, which is hosting the ongoing general assembly, is scheduled to chair OANA for the next three years.
In his remarks at the opening of the general assembly, Yonhap president and CEO Cho Sung-boo said news agencies around the globe are facing unprecedented challenges that must be turned into new opportunities.
"Artificial intelligence, virtual reality and machine-learning have entered our newsrooms as technology makes advancements in leaps," he said.
Editor-in-Chief Datuk Mokhtar Hussain represented the Malaysian national news agency Bernama at the general assembly which carries the theme
New Challenges for Journalism: Technological Innovations and Issues of Trust
.
-- BERNAMA