MELAKA, Nov 5 -- Creating awareness on the importance of environmental cleanliness and recycling will form the thrusts behind Melaka's implementation of the National Cleanliness Policy, said Chief Minister Adly Zahari.
He said any working system employed by the state government would not have the desired optimum effect should the people fail to comprehend why environmental protection was important.
"We need a system, but at the same time, in the long run, we need to educate the people as well (on cleanliness). However, for this, we need initiatives. Merely dishing out reminders will have no impact.
"Melaka needs an initiative just like the reduce, reuse dan recycle (campaign) by the Ministry of Housing and Local Government. The initiative to create awareness would be short term but it would take into account educating the people in the long run as well," he told Bernama.
The National Cleanliness Policy was launched here on Sunday, with five clusters as pillars, namely, awareness on cleanliness, environmental sustainability, circular economy, governance and enforcement and quality and skilled human capital.
Adly said apart from the 5 R's of waste management namely rethink, repair, reduce, reuse and recycle, maintaining hygiene and keeping the environment clean should be adopted as a culture especially among the younger generation.
"Solid waste segregation at source should continue to be promoted and adopted in Melaka and nationwide," he said.
He said the #IniRumahKita campaign which the state government had implemented to get the people to participate in making cleanliness an aspect of their lives, was seen as the best platform to raise public awareness in line with the National Cleanliness Policy.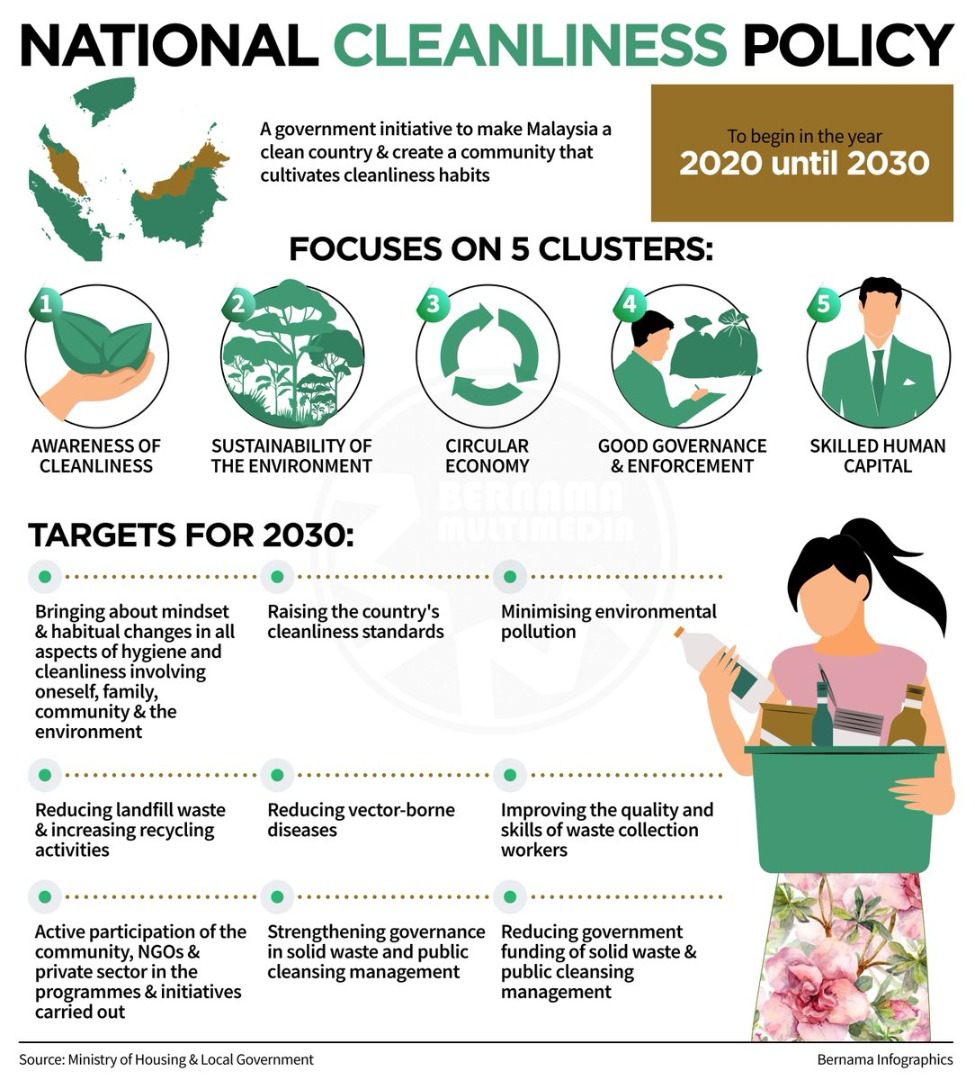 "We will look into this policy and will incorporate the procedures in the #IniRumahKita initiative. This year we started off with gotong royong activities and in January next year we will include four new initiatives in the #IniRumahKita campaign," he said.
Asked on a Bernama report last Sunday in which State Works, Transport and Public Utilities Committee chairman Datuk Mohd Sofi Abdul Wahab was quoted as saying that calamities such as floods were due to the people's lackadaisical attitude towards cleanliness, Adly reiterated that awareness is an important aspect.
"If we take a closer look during floods, we will find several beverage bottles and rubbish in the drainage system. This would not happen if there is environmental awareness. We need the people's cooperation in tackling this issue," he said.
Atiqah Hasanah Roslee, 44, an English teacher from Tehel here said through the National Cleanliness Policy all state government agencies including the local authorities would be given guidelines on ?enforcement in maintaining the state's cleanliness.
"Awareness programmes alone will not be effective as there must be strict monitoring and enforcement from the authorities so that everyone will toe the line. As such everyone must cooperate to make this policy work," she said.
Accounts officer, Muhammad Faiz Daniel Muhammad Hakim, 29, said apart from the government agencies, private companies and non-governmental organisations (NGOs) should help in efforts to raise environmental awareness.
"More private companies should do their part by organising environmental awareness programmes especially in schools, through CSR (corporate social responsibility) programmes," he said.
-- BERNAMA