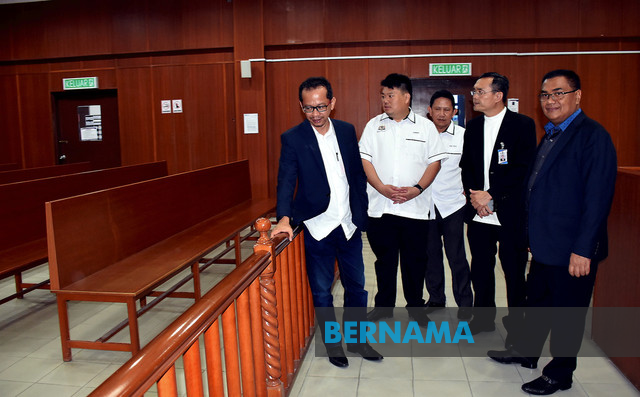 MELAKA, Oct 10 -- Melaka Chief Minister Adly Zahari is among eight individuals from state and federal agencies who will be called to testify at a public hearing into the Sungai Melaka pollution investigation at the magistrate's court here on Oct 24.

They have been called in to help identify the cause of the pollution at the river and preventative measures taken in improving the river management system, said Melaka Competency, Accountability and Transparency (Melcat) Special Select Committee chairman, Damien Yeo Shen Li.

He added that the seven others were from the Department of Environment, Indah Water Consortium, Hang Tuah Jaya Municipal Council, Melaka Historic City Council(MBMB), Melaka Historic City Council, Malacca Water Regulatory Agency as well as the National Water Management Commission.

"This public hearing is the first to be held in the state on the democratic principles practised under the Pakatan Harapan government and we want to show that the state government agencies are transparent, accountable and have integrity in their working processes.

"We had previously conducted pre-hearing briefings involving 10 witnesses except for Adly, as we wanted to have testimony and related documents within three months," he told reporters at a press conference regarding the public hearing session here today.

Also present were Melcat members and state assemblymen Datuk Dr Wong Fort Pin, Gue Teck, Datuk Roslan Ahmad and Datuk Nor Azman Hassan.

Commenting further, Yeo said those who had questions or wanted to air their views on the Sungai Melaka pollution, could forward them to Melcat via email at melcat@melaka.gov.my before Oct 22.

The public, he said, were allowed to attend the hearing, adding that the premises could accommodate up to about 100 people.

He said the hearing was not intended to convict or judge any individual or agency, but the outcome of the investigation, proposals or opinions would be submitted to the state government or it would be included in the agenda of the upcoming State Assembly sitting.

Meanwhile, he said Melcat was also investigating a number of other issues including sand mining activities off the state's waters which had direct impact on its people as well as the environment or eco system.

He said he did not want the issue to have a negative image on the state government and hoped it could be dealt with accordingly.