By LINDA KHOO
BANGKOK, Oct 9 – Heavy downpours have hampered operations to retrieve the carcasses of 11 wild elephants which died after falling into the Haew Narok Waterfall in Khao Yai National Park in Central Thailand.
Thailand's Department of National Park, Wildlife and Plant Conservation deputy director Jongkrai Worapongsathorn said park rangers continued to face difficulty to reach some of the carcasses due to bad weather and rough terrain.
"Due to continuous rainfall, the park rangers only managed to reach two carcasses today," he said in a statement here today.
Khao Yai National Park rangers are trying to retrieve the dead elephants from the river as there are fears the carcasses might contaminate the water.
Jongkrai said two large nets were set up downstream of the waterfall to catch the carcasses in case they were swept away by strong currents.
He said a meeting would be held to discuss ways to deal with the decomposing carcasses to prevent contamination in the area.
Jongkrai, who visited the site today, said the national park would install more fencing near the waterfall to prevent elephants from crossing and plunging into the waterfall in future.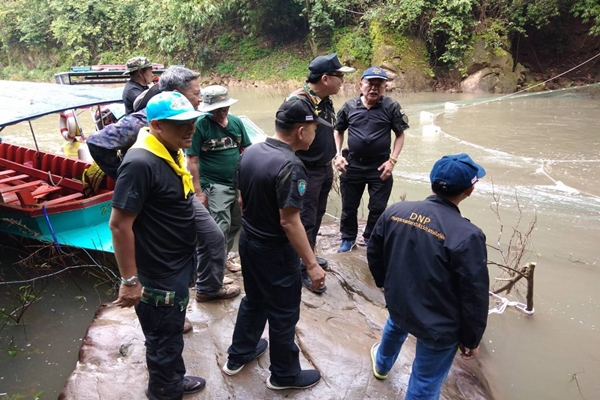 "The installation of new fencing will be well planned," he said.
On Saturday, six wild elephants, including a three-year-old calf, died after falling into the Haew Narok Waterfall.
However, a drone footage spotted five more carcasses of wild elephants in the same ravine where the six elephants had died earlier.
The gruesome discovery brings the number of wild elephants killed at the waterfall to 11. It is the biggest loss of wild elephant population in a national park in Thailand.
The tragedy is believed to have occurred after heavy rain when a baby elephant slipped over the waterfall while the other elephants were trying to save each other from the waterfall.
On Saturday, park rangers managed to rescue two wild elephants – a mother and her calf. It was reported that the condition of the two wild elephants is improving.
A similar accident happened in 1992 when eight elephants were swept over the same waterfall and died.
The 2,000-square kilometre park is home to approximately 300 wild elephants and is located in the Pak Phli district of Nakhon Nayok. The park covers four provinces -- Nakhon Ratchasima, Prachin Buri, Nakhon Nayok and Saraburi.
-- BERNAMA