By From Tengku Noor Shamsiah Tengku Abdullah & Nor Liyana Zulkifli
YANGON, Aug 30 -- More than 500 guests attended a simultaneous celebration of Malaysia's 62nd National Day, 56th Malaysia Day and 86th Armed Forces Day at the Wyndham Grand Yangon hotel here, hosted by the Malaysian Embassy on Thursday evening.
The ceremony began with the playing of the national anthems of Malaysia and Myanmar.
The guests were treated to a sumptuous spread of Malaysian delicacies.
The event was also held on the sidelines of the Malaysia-Myanmar Connect (MYC 2019) seminar organised by the Malaysia-Myanmar Business Chamber in partnership with the Malaysian Embassy in Yangon and in collaboration with the Malaysia External Trade Development Corporation (Matrade) from Aug 28 to 30.
Speaking to Bernama News Channel, Malaysia's Ambassador to Myanmar Datuk Zahairi Baharim said, "We celebrate the National Day two days earlier because we want many VVIP to attend our event. The celebration is very meaningful when there are more than 500 people present.
"We believe many Myanmar people mingled well with Malaysians," he said.
Touching on Malaysia-Myanmar Connect, Zahairi said it is a platform for the Malaysian business community to network and explore business and investment opportunities with their Myanmar counterparts.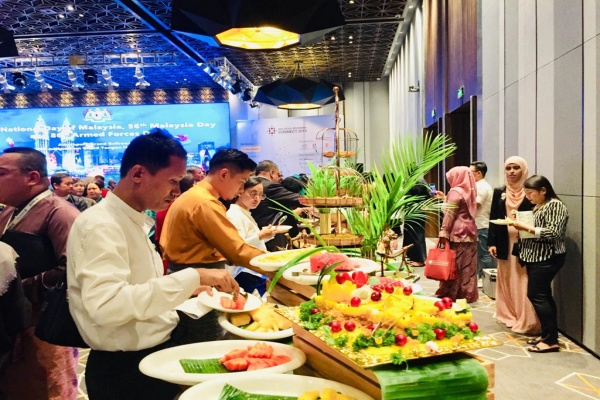 Myanmar's Union Minister for Investment and Foreign Economic Relations U Thaung Tun was among those who attended the event.
The others included Chief Minister of Yangon Region U Phyo Min Thein and his wife, Lt-Gen Min Naung of the Office of the Commander-in-Chief (Army) and his wife, senior military officers, diplomats, representatives of UN agencies, Embassy staff and Malaysian residents in Yangon.
Earlier in his remarks, Union Minister Thaung Tun recounted the deep ties between the two countries which established diplomatic relations in 1957.
"We seek to share our success with Malaysia, just as Myanmar seeks to share in Malaysia's success," said Thaung Tun.
According to statistics made available by the Myanmar Investment Commission, Malaysia is the 8th largest investor, with some 66 investments.
Bilateral trade between the two countries has also remained strong over the years, reaching some US$ 738 million in the 2018-2019 fiscal year.
According to the minister, Myanmar, with a population of around 54 million, a youthful workforce, low labour costs and a rapidly growing consumer market, is an ideal location for Malaysian investments.
He also welcomed Malaysia as one of Myanmar's major trading and investment partners — including in areas such as oil and gas exploration, agriculture, construction, energy, IT, manufacturing, banking, finance and tourism.
Thaung Tun and Zahairi also cut a cake to mark the celebration of Malaysia's 62nd National Day, 56th Malaysia Day and 86th Armed Forces Day.
-- BERNAMA