From Siti Radzeah Rahmat
BANDAR SERI BEGAWAN, Aug 18 (Bernama) -- It was an opportunity not to be missed by Malaysians residing in Brunei when they were given the chance to meet with the Yang di-Pertuan Agong Al-Sultan Abdullah Ri'ayatuddin Al-Mustafa Billah Shah, who is here on a three-day state visit.
Tonight, His Majesty attended a dinner with the Malaysian diaspora, which is part of the itinerary for the royal visit.
Religious teacher Abdul Rahman Yunus, 84, who hails from Bahau, Negeri Sembilan, when met by Malaysian journalists, said he was overwhelmed with Sultan Abdullah's readiness to meet with his subjects and His Majesty's friendly attitude.
He said it also reminded him of the visit by Sultan Abdullah's father, the late Paduka Ayahanda Sultan Ahmad Shah, who was then the seventh Yang di-Pertuan Agong, who undertook a state visit to Brunei in 1984.
"As Malaysians, we are pleased to meet His Majesty because it is not easy for us, who are living abroad to do so. His Majesty is very friendly and approachable," he said.
The dinner, attended by about 200 Malaysians comprising students, academicians and representatives from the Peninsular Malaysia Malay Welfare Association and Malaysian Citizens Association, was held at the Royal Polo and Riding Club.
Sultan Abdullah was accompanied to the dinner by the Raja Permaisuri Agong Tunku Hajah Azizah Aminah Maimunah Iskandariah.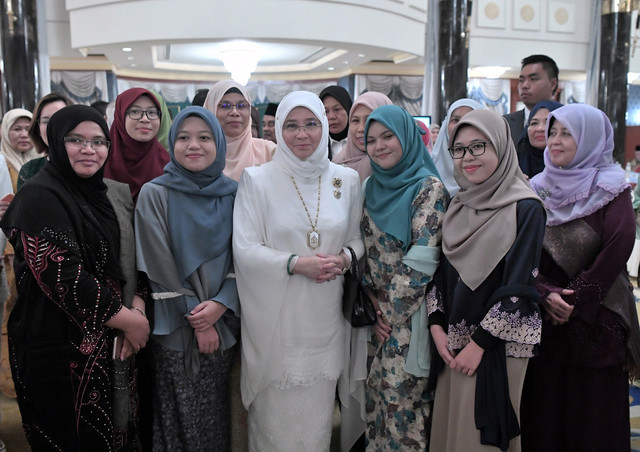 Also present were Foreign Minister Foreign Datuk Saifuddin Abdullah and Malaysian High Commissioner to Brunei, Ismail Salam.
The visit to Brunei is the first state visit by Sultan Abdullah after being officially installed as the 16th Yang di-Pertuan Agong on July 30.
The visit is aimed at strengthening royal and bilateral relations between the two countries which have been established for more than three decades.
Meanwhile, a doctor at the Jerudong Park Medical Centre out-patient clinic, Dr Norhasyimah Mahadi, 38, said it was an opportunity to meet with the royal couple since she was not able to share the historic moment on Sultan Abdullah's installation as the 16th Yang di-Pertuan Agong with Malaysians back home.
There are about 25,000 Malaysians residing in Brunei, with about 10,000 of them comprising professionals.
-- BERNAMA