By Rozlin Rusharmeen Rosmin
GERIK (Bernama) -- It was a trip like no other. The virgin jungles, pristine lakes and rivers, and unique flora and fauna bowled this writer over during her maiden visit to the Royal Belum State Park here.
For the average visitor, there are numerous activities that they can take part in to get a feel of nature and discover the treasures of this forest complex that is about 130 million years old, making it older than the Amazon rainforests of Brazil.
The 117,500-hectare Royal Belum, bordered by Thailand in the north and Kelantan to the east, was gazetted as a protected area by the Perak government in May 2007 and is managed by the Perak State Parks Corporation.
This writer's visit to the Royal Belum State Park was part of a four-day, three-night media tour (Kembara Media Perak 2019) she participated in from June 28 to July 1 that was organised by the Information Department and Perak government. The tour was aimed at promoting the attractions found in the various districts of Perak.
BIRDWATCHING
The Royal Belum's bird season is one of its many attractions. According to Perak State Parks Corporation ranger Mohd Yusri Abdullah Sani, birdwatching is best done from July to September, which coincides with the fruiting season in the jungle.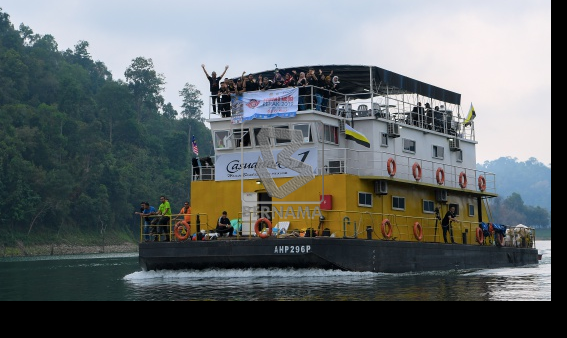 The Casuarina, the largest houseboat in Temenggor Lake. --fotoBERNAMA (2019) ALL RIGHTS RESERVED
"With about 310 bird species in Royal Belum, birdwatching is an activity not to be missed.
"The birds feed on the fruits and sit on the tree branches, giving birdwatchers the chance to see them with their naked eyes," he said.
The hornbills, in particular, are a magnificent sight and in Royal Belum alone there are 10 species, compared with only eight in Sabah and Sarawak although the hornbills found in the latter two states are more well-known than the ones in Perak.
Mohd Yusri said Royal Belum is recognised as an Important Bird and Biodiversity Area (IBA) by BirdLife International, having been listed as an IBA in 2004.
"It means that this place is globally important for the conservation of bird populations," he said when met here during Kembara Media Perak 2019.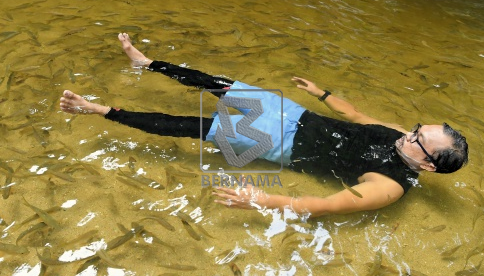 There are many fish species at Temenggor Lake, the second largest manmade lake in Peninsular Malaysia after Kenyir Lake in Terengganu. --fotoBERNAMA (2019) ALL RIGHTS RESERVED
(BirdLife International is a global partnership of conservation organisations that strive to conserve birds, their habitats and global biodiversity.)
During the birdwatching season, nature photographers from all over the world flock to Royal Belum to capture great images of the park's avian denizens.
Since our media tour did not coincide with the bird season, we had no choice but to be content with the chirping of the shy birds which kept to themselves high in the forest canopy.
HAVEN FOR ANGLERS
Visitors to Royal Belum will also be mesmerised by the sight of Temenggor Lake. Covering 15,200 ha, it is the second-largest man-made lake in Peninsula Malaysia after Kenyir Lake in Terengganu. The tranquil and panoramic surroundings of Temenggor Lake is complemented by the 374 species of flora and over 80 species of fauna within the lake.
The lake is a haven for avid anglers who will get an adrenaline rush when catching species like 'hampala' and the giant snakehead or mudfish.
The fresh air and the sight of the crystal clear water sparkling under the sunlight stimulated the writer's senses and she could feel her body and soul rejuvenating.
For those who want to stay overnight at Temenggor Lake, houseboats are available. However, there are only 35 houseboats on this lake, compared with over 100 at Kenyir Lake.
Mohd Yusri explained that they did not want too many houseboats as they wanted to limit the number of visitors to Royal Belum.
"The state government wants to conserve Royal Belum and maintain its pristine beauty. This state park is not meant for ecotourism, it is more for conservation as it is a hub for Malaysia's biodiversity.
"Too many houseboats here will contribute to pollution. We don't want to mess up the ecosystem, hence we cap their numbers. Just imagine if we receive 29,000 visitors a year What will happen after three years We want to preserve the beauty as well as the flora and fauna here," he said.
The journalists who were part of Kembara Media Perak 2019 spent a night aboard 'Casuarina', the biggest houseboat on Temenggor Lake. It was really a silent night with the cool breeze adding to the refreshing feel onboard.
ORANG ASLI SETTLEMENT
Many may be oblivious to the fact that there are people inhabiting Royal Belum, namely the Orang Asli of the Jahai ethnic group who live in Kampung Klewang, located on the banks of a river that flows through the park.
According to the village head or Tok Batin Sedo bin Jebis, 55, there are 35 families living in the settlement with most of them leading a semi-nomadic life.
The river is their lifeline as it provides them with fish and water, and a route to the outside world. They also plant tapioca and fruits.
"We have a lot of herbs in the forest that we collect daily such as
tongkat Ali
,
madu kelulut
and agarwood," he said, adding that if they collect more than what they need, they would sell the excess to the visitors who stop by at their village.
He added that Royal Belum is a "medicine bank" as it contains a lot of plants that could cure various ailments.
Edited by Rema Nambiar
BERNAMA