By Kurniawati Kamarudin
KUALA LUMPUR, July 24 (Bernama) -- Al-Sultan Abdullah Al-Mustafa Billah Shah is known to be a caring ruler and this gentle side of His Majesty was witnessed by several journalists who were tasked to interview the King at Istana Negara ahead of his installation as the 16th Yang di-Pertuan Agong on July 30.
Right after the interview with the journalists from Bernama and the NSTP Group, Sultan Abdullah spontaneously gave up his seat on a buggy to Bernama deputy editor-in-chief (international news service) Ahmad Fuad Yahya whose arthritis forced him to walk with the aid of a walking stick.
Ahmad Fuad said he was caught by surprise when the buggy driver told him that he had been instructed by Sultan Abdullah to give him a lift.
"I was reluctant at first but, when the driver insisted that it was on the King's instruction, I accepted the offer.
"I was overwhelmed by the King's act of kindness. His Majesty has some problem with his legs too but he opted to walk for my sake," he said.
Earlier, on the way to the interview session held at the Main Banquet Hall, Sultan Abdullah had taken a ride on the buggy.
Ahmad Fuad said Sultan Abdullah had always been concerned for the people, not only in times of disaster such as floods and fires but in cases like his (Ahmad Fuad's).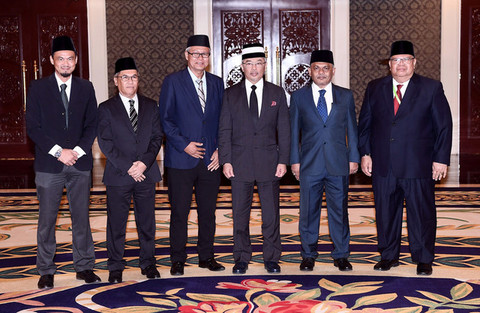 He said that while chatting with the journalists before the interview, the King asked about the condition of his legs.
"I informed His Majesty that I would be going in for surgery at the end of this month. He even asked where the surgery would be performed and who would be performing it.
"He jokingly asked if I am afraid of surgery. Tuanku is a humble ruler who is willing to put aside palace protocol to be close to the people," said Ahmad Fuad, adding that the King's gesture will remain a sweet memory for him.
During the interview, Sultan Abdullah also showed his concern when he noticed a journalist coughing and ordered a palace official to get a glass of water.
Several journalists who had an audience with Sultan Abdullah for the first time found his kindness something to be cherished.
Some journalists took the opportunity to take a wefie with Sultan Abdullah and His Majesty even obliged to take the photograph himself using the smartphone of Noor Shamsiah Mohamed, who was until recently the Bernama Pahang bureau chief.
"Let me take the photograph for you," said Sultan Abdullah, and his taking of the wefie was recorded by some of the other journalists.
It is obvious that the King has inherited the caring nature of his late father, Paduka Ayahanda Sultan Ahmad Shah, and it has won the hearts of the people.
-- BERNAMA