By Fadzli Ramli
MAKKAH, July 20 (Bernama) -- His face glowed with pride when manager of Alwafa Catering and Services, Ahmad Abdullah spoke of his 13-year-experience providing food to Malaysian haj pilgrims.
Ahmad, 48, a Pattani Malay who was born here said he decided to apply to be a food caterer for Malaysian pilgrims after finding out about the Tabung Haji Board (TH)'s well-organised management system.
"The Tabung Haji has a system which is so much better than the haj management systems of other countries and I myself learnt a lot from it, and my business has grown along with Tabung Haji.
"Each haj season, I provide food specially for Tabung Haji, we cook up to 5,000 packs of food (each batch), we can provide more depending on Tabung Haji's needs," he said here today.
Ahmad was speaking in a press conference which was also attended by TH Operations (Catering) manager, Mohd Nober Kassim and executive chef of Alwafa Catering and Services, Mohd Kamarulzaman Md Rodi.
This year, 30,200 Malaysians will perform the haj, assisted by 640 TH staff. To date, more than 13,000 of the Malaysian pilgrims have already arrived here and Madinah.
According to Ahmad, food for them is cooked in seven kitchens on contract with TH.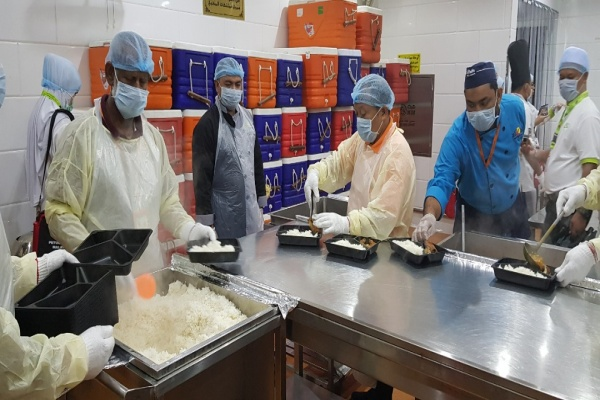 He said to his company, the most crucial aspect in food preparation is cleanliness and it adhered to the food regulations of the Saudi Arabian government and those of TH.
"Cleanliness in preparing food is compulsory, it is always a condition for staff, the food preparation area, raw materials which all have to be inspected," he said.
Meanwhile, Mohd Kamarulzaman, 48, from Ipoh, Perak said he used the vacuum and nitrogen food pack concept to ensure that the food for Malaysian haj pilgrims remained hot and fresh.
"With the food pack machine, we can ensure that the food can remain fresh for 24 hours," he said, adding that the menu includes chicken, beef, fish and squid dishes as requested by TH.
Popularly called Chef Ayub, he said he has been with this company for four years and it gave him a chance to work and perform his religious obligations.
-- BERNAMA