From Fadzli Ramli
MAKKAH, July 20 (Bernama) -- It is a normal sight to see Haj pilgrims here buying souvenirs for their loved ones back home and this writer is no exception with one of the must buy items in the writer's list being kasturi perfume or nicknamed 'the perfume from heaven'.
The writer's journey ended up in one of the most famous wholesale emporiums here namely Jaafaria Souq (Jaafaria Market) which is home to hundreds of shops, ranging from clothing, household items, accessories, beads and of course perfumes.
Jaafaria Souq located only around one kilometre from Masjidil Haram (the Grand Mosque), besides the well known Jin Mosque here, is there the writer met perfume shop owner Muhammad Ibrahim, 48, of Pakistani-Arab descent, who has been there since the wholesale emporium opened.
Chatting while completing the writer's mixed order of kasturi perfume, Muhammad Ibrahim said the modern Jaafaria Souq building now was newly built around 2008 when sellers from the Seng Market and markets around Masjidil Haram had to move to make way for expansion of the Grand Mosque.
"Over the years Jaafaria Souq has become a well known hot spot for pilgrims to buy souvenirs for their love ones where they buy in bulk, a lot of Malaysians come here and we learned several Malay words like 'apa khabar', 'harga murah', 'berapa harga', and 'terima kasih' to comunicate better with our customers.
"Indonesians, Indians, Pakistanis and Turks also come here because we sell high quality items at low prices. Some sellers get their items from other countries like China, Pakistan and India but my perfume is 100 locally made in Saudi Arabia," he told Bernama.
This year 30,200 Malaysians will perform their Haj with more that 13,000 having arrived here and in Madinah.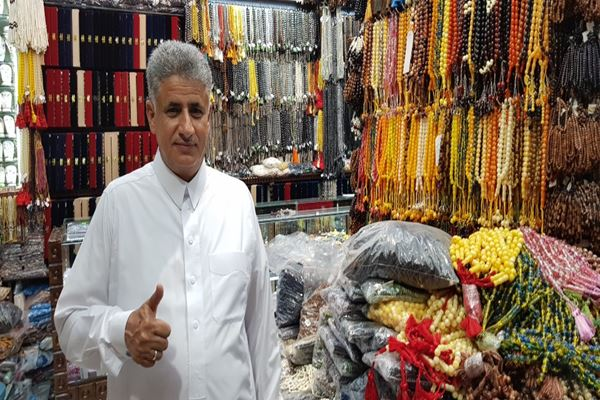 Seeking for other must buy items in Jaafaria Souq, prayer and decorative beads, the writer met beads shop owner Abdullah, 69, who came from Yemen and his son Abu Bakar, 42, who was born here.
Abdullah was kind enough to give several tips on how to buy better at the emporium.
Abdullah said first and foremost buy in numbers and don't buy in singles; and the lowest number you buy is half a dozen thus bringing down the items' price very low.
"When you buy in dozens you can easily negotiate the price with the sellers, that is the next tip, always negotiate when buying in bulk. But don't over negotiate or over think it. Just have one (price) number where you are comfortable with and when the sellers hit it buy it," he said.
The most important tip according to Abdullah is timing where you have to buy the items at the beginning of the Haj season or as early as possible because the sellers will usually hike up their prices when more pilgrims come in during the middle or the pilgrims going home at the end of the haj season.
The tips from Abdullah greatly helped this writer in his quest to buy for his loved ones more so when the family back home were jumping with joy when they saw the pictures of the souvenirs bought for them.
-- BERNAMA