By Voon Miaw Ping
KUALA LUMPUR, July 5 (Bernama) -- The Embassy of the Bolivarian Republic of Venezuela in Malaysia on Thursday organised a popular Venezuelan native art exhibition in celebration of the Republic's 208th Independence Day today.
Themed 'Bolivar and Manuela', the exhibition pays tribute to the struggle of Venezuela's military commander and politician Simon Bolívar – the key figurehead that fought for Venezuela's independence from the Spanish empire in the early 1800s – and his relationship with his lover Manuela Saenz, a South American revolutionary.
The Chargé d'affaires of the embassy, Morella Barreto Lopez, said the exhibition is among the activities being held to celebrate Venezuela's "Bicentennial Cycle of Independence" that has started since 2010 and will end in 2030.
"It began with the celebration of 200 years of the Declaration of Independence of April 19, 1810 and will culminate with the commemoration of the 200th death anniversary of Father Liberator Simon Bolivar, also known as the Liberator (El Libertador), in December 17, 1830," she said during the exhibition's launch held at the University of Malaya Art Gallery, here.
A total of 24 paintings about Bolivar and Manuela by 13 artists are being showcased at the exhibition.
"What makes this exhibition more important is (that) all these paintings are made by ordinary Venezuelans, not by any famous artists," she told Bernama International News Service.
Aside from the paintings, several excerpts from Bolivar and Manuela's letter exchanges professing their love were also on display.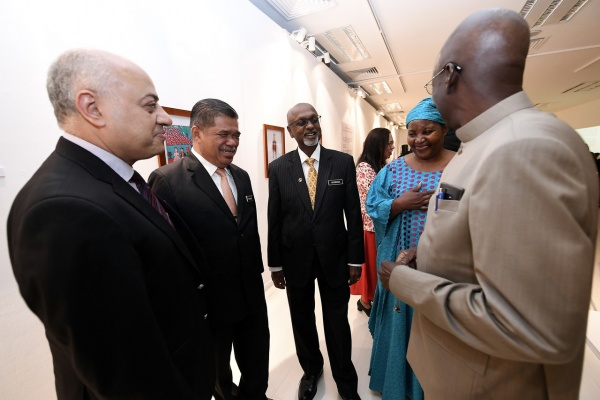 Mohamad Sabu (two, left) with Sivarasa Rasiah (middle)
During his 47 years of life, Bolivar had commanded 472 battles, where only six were lost, and managed to help in liberating six nations while fighting for his country's freedom.
"Simon Bolivar, the most universal of all Venezuelans, lived only 47 years, and in that short life he liberated six nations (Venezuela, Colombia, Panama, Ecuador, Peru and Bolivia), he was Supreme Chief of five of them, he travelled with the torch of freedom 123,000 kilometres on horseback, which is more of what was sailed by Christopher Columbus and Vasco de Gama together," explained Barreto.
Meanwhile, Manuela was an Ecuadorian freedom fighter born in Quito, Ecuador on December 27, 1797.
Though famously known as Bolivar's lover, Manuela was also remembered for fighting in the Battle of Pichincha where she was later conferred with the rank of Lieutenant of Hussars of the Liberator Army.
She died in December 1856, and she was also known as The Liberator of The Liberator (Libertadora del Libertador).
The Venezuela Independence Act was signed in Caracas on July 5, 1811, marking the birth of a new nation. It also became the first country in Latin America to attain full independence from the Spanish Colonisers.
Also present at the opening ceremony were Defence Minister Mohamad Sabu, Deputy Rural Development Minister and the event's guest of honour R. Sivarasa, members of the diplomatic corps, a Venezuela solidarity group in Malaysia, and members of the academia.
Members of the public can visit the exhibition from now till July 8.
--BERNAMA