KUALA LUMPUR, June 26 (Bernama) -- The Negeri Sembilan state government has been asked to give more focus on the development of Jelebu district to ensure that it will not lag behind.
The Undang (ruling chief) of Jelebu Datuk Maarof Mat Rashad said the district now has good access road, but still lacks other infrastructures, such as institutions of higher education, factories, shopping complexes and hotels to attract tourists and investors to boost the local economy.
"The Jelebu district is a little behind in terms of development. There is no institution of higher education, no shopping complex...the only so-called mall available is the 22 Mart."
He said this when interviewed in Bernama News Channel's Ruang Bicara programme in conjunction with his visit to the Malaysian National News Agency (Bernama) here today.
Maarof was accompanied by his wife, Tok Puan Mahawa Mohd Som. They were met on arrival by Bernama chairman Datuk Seri Azman Ujang and chief executive officer Nurini Kassim.
Maarof also expressed hope that the construction of the new alignment of the East Coast Rail Link (ECRL) project involving Jelebu would help boost the district's economic development.
On April 12, the Prime Minister's Office in a statement announced that the construction cost for Phases 1 and 2 of the ECRL project had been slashed to RM44 billion - a reduction of RM21.5 billion from its original cost of RM65.5 billion - and that it would have a new alignment involving Kota Bharu-Mentakab-Jelebu-Kuala Kelawang-Bangi/Kajang-Putrajaya and Port Klang.
Maarof was announced as the 16th Undang of Jelebu at a ceremony on Dec 20, 2018, to succeed Datuk Musa Abdul Wahab, who died on Sept 11, 2014.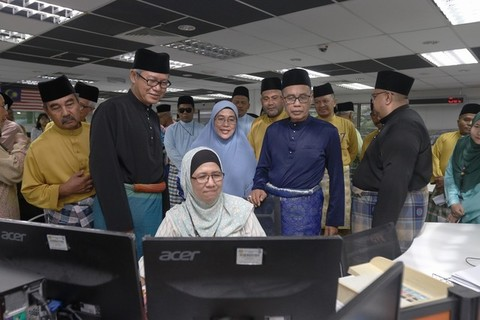 The Undang of Jelebu is one of the ruling chiefs of Negeri Sembilan who rule the state alongside the Yang Dipertuan Besar, Undang of Sungai Ujong, Undang of Johol and Undang of Rembau, as well as Tunku Besar Tampin.
-- BERNAMA