PEKAN, May 23 (Bernama) -- A decade of service as the aide-de-camp (ADC) to the late Sultan Ahmad Shah Al-Musta'in Billah Sultan Abu Bakar will be not be erased from the memory of Lieutenant Colonel Nazatul Rina Lasim.
Nazatul Rina, 38, of the Royal Malaysian Armed Forces (RMAF) confessed that she learned a lot from the personality of the late Sultan Ahmad Shah who prioritised the welfare of others and was always generous at heart.
"I am proud that I could serve Tuanku to the end of his life. This experience is irreplaceable and will be a special memory to me.
''Indeed, he allowed me to look after my father when he (her father) was receiving treatment at the hospital, although my duty actually required me to always be beside Tuanku,'' she said.
The Kluang, Johor-born was met at the Istana Abu Bakar here today, at the Royal Burial Ceremony of Sultan Ahmad Shah who died at the National Heart Institute (IJN) at 8.50 am yesterday, at the age of 88.
Reflecting on the personality of Sultan Ahmad Shah, Nazatul Rina said he was always curious about the development of the people and wanted to be the first person at the scene if a disaster befall them.
She also regarded her appointment as ADC as an unexpected stroke of luck seeing she was the first woman in the country who had the opportunity to hold such an important post.
Meanwhile, corporate figure Tan Sri Vincent Tan, who also paid his last respects, regarded Sultan Ahmad Shah as a very generous person and easily approachable despite his position.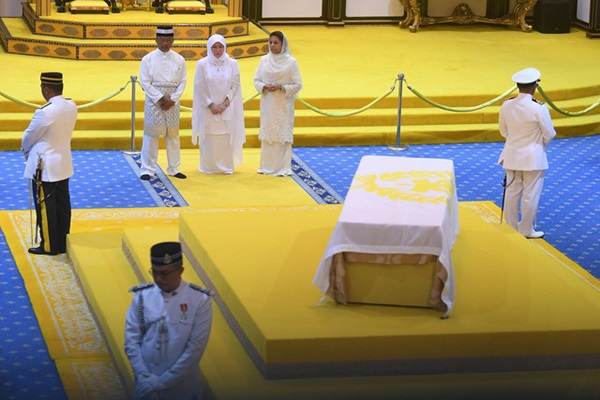 He said their acquaintanceship started over businesses and they became closer when he developed tourism projects on Tioman Islamd and Bukit Tinggi in Pahang.
''He often asked about the developments of the projects at the two places and often visited them when they were completed.
"I made the efforts to be at Tioman Island and Bukit Tinggi during his visits and each time I would notice him giving presents to the workers," he said.
-- BERNAMA