PUTRAJAYA, Feb 12 (Bernama) -- Parti Pribumi Bersatu Malaysia (Bersatu) chairman Tun Dr Mahathir Mohamad today announced that six former UMNO Members of Parliament have joined Bersatu.


They are Datuk Seri Hamzah Zainudin (Larut), Datuk Rosol Wahid (Hulu Terengganu), Datuk Dr Abdul Latiff Ahmad (Mersing), Datuk Shabudin Yahaya (Tasik Gelugor), Datuk Mohamad Fasiah Mohd Fakeh (Sabak Bernam), and Datuk Seri Ikmal Hisham Abdul Aziz (Tanah Merah).


Dr Mahathir said the six Members of Parliament were accepted into Bersatu after studying their application and having imposed the condition that they would only become ordinary members without holding any position in the party.


"Becoming Bersatu members does not mean that they are looking for protection from the party. We will not give any protection from anything that they had committed earlier," said Dr Mahathir, who is also the Prime Minister, at a media conference, here.


Earlier, he had presented Bersatu membership cards to the six Members of Parliament and the Member of Parliament for Masjid Tanah, Mas Ermiyatie Samsudin who had joined Bersatu in December last year.


Dr Mahathir said Bersatu would utilise the services of these MPs for certain tasks including seeking their opinions and giving them the opportunities to campaign in the elections for Bersatu and Pakatan Harapan (PH).


He added that Bersatu accepted the applications of the MPs concerned following efforts to 'revive' UMNO which were strengthened through collaborations with PAS.


"(Previously) UMNO was an infidel party according to PAS and was totally rejected. But when there is an advantage for PAS, it will collaborate with all parties," he said.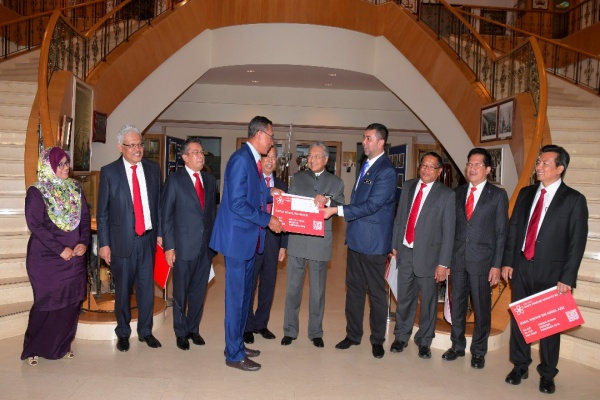 Dr Mahathir said Bersatu championed the Malay and Bumiputera cause because they still felt unsafe if they did not have a certain number of delegates in the coalition and ruling party.


"We will ensure that their cause will be protected while we cooperate with the other multi-racial parties including the DAP. This is our aspiration, and we have explained to the six people (MPs) concerned, and they understand," he said.


Replying to a question why the MPs concerned only joined Bersatu after the Barisan Nasional had lost in the 14th General Election (GE14), Dr Mahathir said one had to change his or her stand according to the prevailing situation.


"Previously I criticised (DAP Advisor) Lim Kit Siang and (PKR President) Datuk Seri Anwar Ibrahim but now I am with them and they too had criticised me previously.


"If we are tied down to a particular leader and party until the party became a robbing party we still remain with the party, then it means that we are not politicians but championing for our personal gain," he said.


Dr Mahathir said if the PH coalition partners namely PKR, DAP and Parti Amanah Negara also turned coat and no longer loyal to the nation, he would also change to another party,


"We are mobile, we are not fixed," he added.


Meanwhile, Abdul Latiff said the six individuals decided to join Bersatu because they were confident with Dr Mahathir's struggles besides the fact that he had previously been a cabinet member when Dr Mahathir was the fourth Prime Minister.


"Tun (Dr Mahathir) is a powerful person to be the prime minister and certainly it is our responsibility to empower the Malays and Bumiputera,"he said.


-- BERNAMA