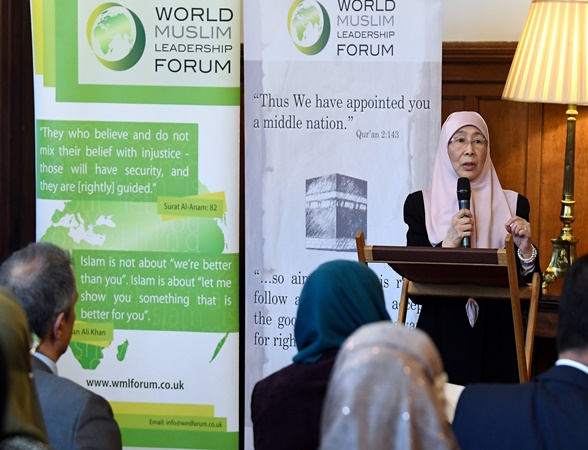 From Harlina Samson
LONDON, Dec 6 (Bernama) -- Muslim women must come forward, develop their skills and potential, utilise their talents and entrepreneurial abilities in order to see a genuine long term improvement in the Muslim societies.
Malaysian Deputy Prime Minister Datuk Seri Dr Wan Azizah Wan Ismail said to achieve this, men must change their attitude and be more supportive of women.
She said Muslim men need to dismantle the chauvinistic mentality that is inherent in some of the local cultures.
"We can never attain social justice on the basis of skewed and unjust interpretations. Human dignity, wellbeing and upliftment of our people irrespective of gender, race, class or ethnicity in peaceful, tolerant and inclusive societies are of utmost importance.
"But all of these must include the men," she said in her keynote address at the World Muslim Leadership Forum (WMLF), held at Lambeth Palace in south London, Thursday morning.
Dr Wan Azizah, who arrived here yesterday for a three-day official visit to the United Kingdom, joined other Muslim leaders from different corners of the globe to explore key issues, address challenges and provide innovative solutions to delinking associations made between terrorism and Islam.
-- BERNAMA