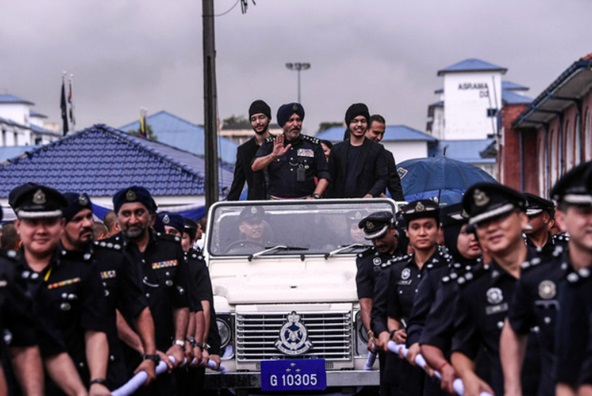 KUALA LUMPUR, Dec 5 (Bernama) -- There was music in the air and the beating of drums – a fitting finale for Bukit Aman Commercial Crime Investigation Department (CCID) director Datuk Amar Singh Ishar Singh who retired today.
Inspector-General of Police Tan Sri Mohamad Fuzi Harun and his deputy Tan Sri Noor Rashid Ibrahim were on hand to celebrate the 35 years service of an outstanding officer of the Royal Malaysia Police (PDRM) at a ceremony held at the Police Training Centre (Pulapol) here.
Also present were 500 senior police officers and many of Amar Singh's family members.
The Pancaragam Pusat PDRM (the PDRM band) was on hand to keep the atmosphere alive. It played several Malaysian favourites and even honoured the CCID director to lead the band in the song 'Main Chali Main Chali' popularised by Lata Mangeskar.
There was a poetry recitation before the "Beating Retreat" (Paluan Berundur) commenced.
Amar Singh, 60, from Ulu Kinta, Perak, started his service as an ASP cadet on Feb 2, 1983.
Among the key positions he held were Kuala Lumpur Pulapol Commander (2007), Kuala Lumpur Police Deputy Chief (2010), Bukit Aman Criminal Investigation (Investigations / Legislation) Deputy Director (2014) and Kuala Lumpur Police Chief (2016).
He was appointed as CCID director on Oct 13 last year which made him the first senior Punjabi officer in the country to assume the post. He was to have retired on June 6, but his service was extended on contract for another six months.
His deputy Saiful Azly Kamaruddin has been appointed as acting CCID director.
The ceremony ended with Amar Singh bidding farewell and getting into a special police vehicle with his children. It was raining, perhaps a shower of blessings for the outstanding police officer.
--BERNAMA