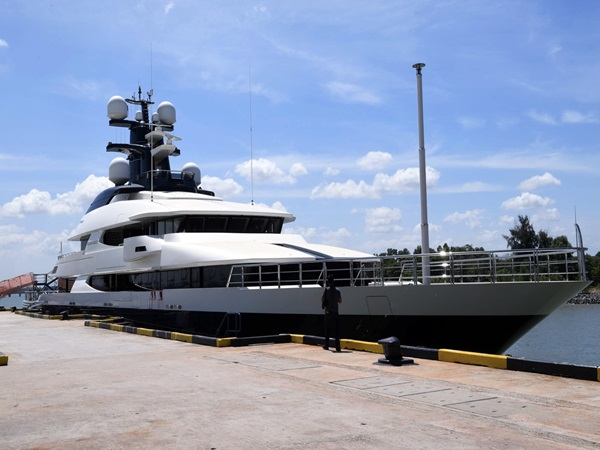 From Massita Ahmad
SINGAPORE, Nov 15 (Bernama) – Ships cannot be kept at anchor all the time because they tend to have problems, such as with barnacles, said Malaysian Prime Minister Tun Dr Mahathir Mohamad on the moving of the seized luxury yacht 'Equanimity' from Port Klang to Langkawi.
The yacht, which is linked to the 1Malaysia Development Berhad (1MDB) scandal, arrived in Langkawi Wednesday for temporary docking after sailing from Port Klang a day earlier.
"Ships must be run. You have to sail the ship at least once every few days," Dr Mahathir said to reporters after a bilateral meeting with his Australian counterpart Scott John Morrison on the sidelines of the 33rd ASEAN Summit and Related Summits here.
The 92-metre-long yacht is currently docked at the Royal Malaysian Navy (RMN) Naval Region 3 headquarters (Mawilla 3) jetty in Bukit Malut, Langkawi.
"The court has decided that the Equanimity belongs to Malaysia. We can put in anywhere but, of course, our main intention is not to keep the ship. We don't need such a big ship. It is too luxurious for us. We want to sell. If you can find the buyer, tell us," he said.
On Oct 26, the Admiralty Court approved the terms and conditions for the bidding for the vessel to take place from Oct 29 to Nov 28.
Seized in Bali in February, the Equanimity, valued at US$250 million, was bought by a Malaysian businessman, Low Taek Jho or Jho Low, allegedly using money stolen from 1MDB.
The Malaysian government took possession of the boat in August.
Dr Mahathir, who is the MP for Langkawi, said in jest: "Thank you for the news (on the Equanimity). I hope when I go to Langkawi I can visit."
-- BERNAMA