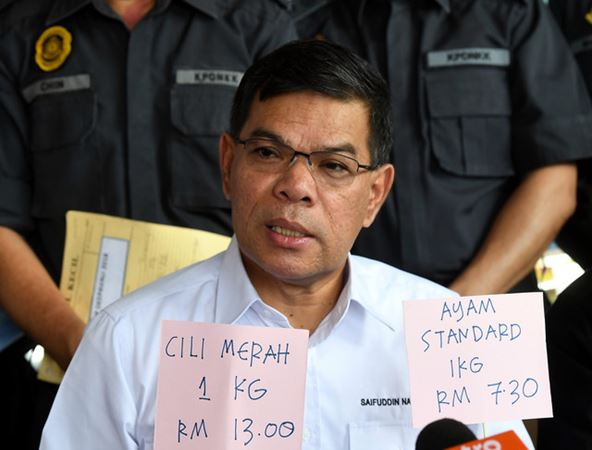 KULIM, 3 Nov (Bernama) -- The subsidy to be given to vehicle owners with engine capacity of 1,500cc and below as announced in Budget 2019 yesterday will take into account the vehicle's age and the people's income level, with the main target being those in the B40 category.
Domestic Trade and Consumer Affairs Minister Datuk Saifuddin Nasution Ismail this was due to the fact that many still owned old vehicles and as such accurate information from the Road Transport Department (JPJ) was required for that purpose.
"We need to know how many Malaysians still owned old vehicles as every formula we work out has to take into account its implications on the government's coffers," he said after launching the 2018 Deepavali Season Price Control Scheme at the Kulim Public Market today.
Finance Minister Lim Guan Eng said yesterday that through this mechanism, the government would subsidise RON95 petrol by 30 sen per litre, limited to 100 litres monthly for cars 1,500cc and below, and up to 40 litres for motorcycles below 125cc.
The government has allocated RM2 billion for the subsidy, which is expected to start from the second quarter of 2019 and will benefit four million car owners and 2.6 million motorcyclists.
He said that since the ministry would carry out the implementation of the subsidy, it would hold its first meeting with the Finance Ministry on Nov 8 to find the best formula to kick start the mechanism.
The ministry will also seek inputs from the public, who are the main 'stakeholders' in the implementation of the mechanism.
"We need to get the mechanism ready together with the Finance Ministry … there will be engagement with oil companies and petrol station operators. When we implement the subsidy, we want to make sure it will be a smooth and efficient process," he said.
He explained that the subsidy implementation would, in fact, benefit the government as it would improve the government's fiscal discipline because every sen spent on the subsidy would reach those who really need it.
"Those in category T20 do not be disappointed because you have a higher level of income … as for ordinary people, they get to buy the fuel at a lower price because of their different income level," he said.
-- BERNAMA