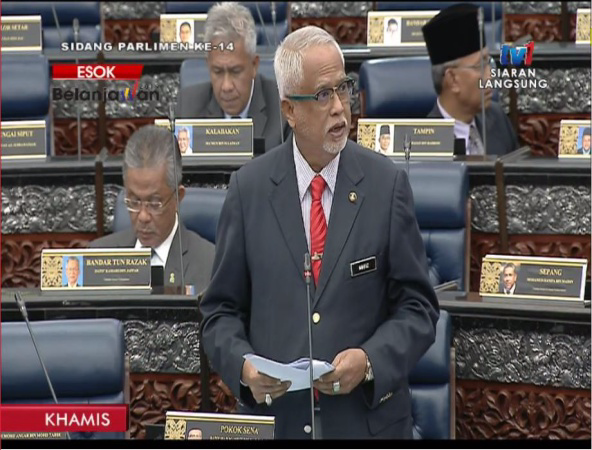 KUALA LUMPUR, Nov 1 (Bernama) -- The government is confident it can implement the RM1,500 minimum wage within five years, the Dewan Rakyat was told today.
Deputy Human Resource Minister Datuk Mahfuz Omar said he does not rule out the possibility that the minimum wage will be reviewed annually although the National Wages Consultative Council Act 2011 provides for a biennial review.
"If there is a need, it (a review) can be done more than once (in two years) but it definitely must be done biennially, " he said when replying to a question from Cha Kee Chin (PH-Rasah) who wanted to know the rationale for setting the minimum wage now at RM1,050 which the MP said is seen as "too low ".
Mahfuz said the government is aware that the rate is not too high but added that it is a rational approach to avert a sudden rise in the operating costs of employers, especially in the small and medium industries.
"A rise in the minimum wage will increase the operating costs of the employers, in terms of contributions to the Employees Provident Fund and Socso, payment for overtime and rest-day work and such, " he said.
Mahfuz said the setting of a standard minimum wage for the whole country is also to bridge the socio-economic gap between Sabah, Sarawak and the Federal Territory of Labuan with the states in Peninsular Malaysia.


He said the increase of RM50 in the wage for the peninsula and RM130 for Sabah, Sarawak and Labuan is reasonable and does not pose a financial burden for 90 per cent of the employers in the small and medium industries.


He said the government also took into account the slower national economic growth, at 4.5 per cent in the second quarter of this year compared to 5.4 per cent in the first quarter.


"It has also to be viewed from the impact of the flow of investments into Malaysia and the government has to ensure that the existing investors remain in the country, " he said, pointing out that foreign direct investment was lower, at RM2.8 billion, in the second quarter this year compared to RM12 billion in the first quarter.


-- BERNAMA