From Kamarul Irwan Alias
HANOI, Oct 24 (Bernama) – Datuk Seri Dr Wan Azizah Wan Ismail has arrived here today to begin a three-day official visit to Vietnam.
The aircraft carrying the Malaysian Deputy Prime Minister touched down at the Noi Bai International Airport at about 2.10 pm local time, and she was met on arrival by Malaysian ambassador to Vietnam Datuk Mohd Zamruni Khalid. Malaysia is an hour ahead of Vietnam.
This is her first official visit to Vietnam after being appointed deputy prime minister on May 21 following Pakatan Harapan's victory in the last general election.
Dr Wan Azizah, who is Women, Family and Community Development Minister, is scheduled to meet Vietnamese Prime Minister Nguyen Xuan Phuc as well as Deputy Prime Minister and Minister of Foreign Affairs Pham Binh Minh.
Her itinerary also includes attending Thursday's 3rd ASEAN Ministerial Meeting on Women (AMMW).
Mohd Zamruni told Malaysian media covering her visit that the meeting themed 'Social Security for Women and Girls Towards ASEAN's 2025 Vision' aimed to foster cooperation in ensuring gender equality and increasing female empowerment in the region.
Dr Wan Azizah will also meet the Malaysian diaspora in Hanoi and attend a session with the Malaysian Under-19 national women's football team which is currently at this city for the AFC U-19 Championship 2019 qualifiers.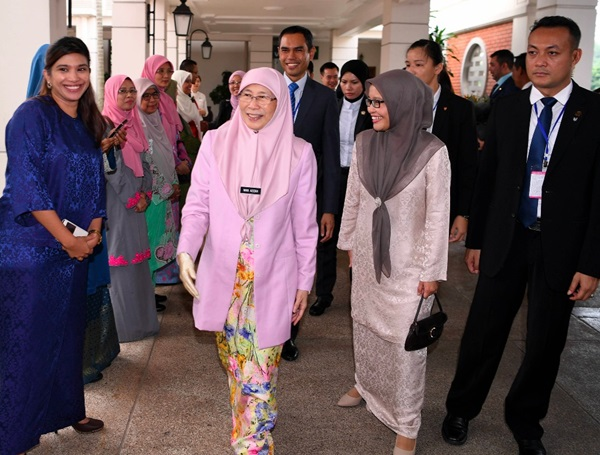 She is accompanied on the Vietnam visit by Deputy Foreign Minister Datuk Marzuki Yahya as well as officials from the Foreign Ministry and Women, Family and Community Development Ministry.
Vietnam has been one of Malaysia's important trading partners, with total trade in 2017 amounting to US$11.7 billion, an increase of 13.9 per cent from 2016, making Malaysia its 13th largest trading partner in the world and fourth in ASEAN after Singapore, Thailand and Indonesia.
-- BERNAMA