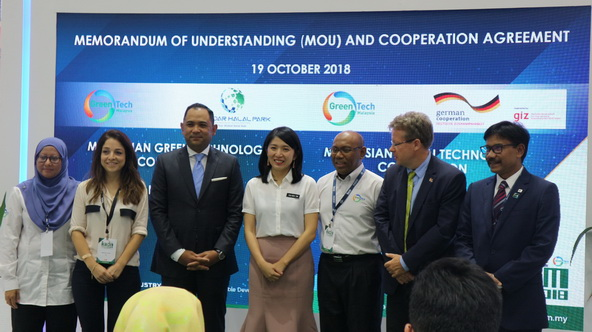 KUALA LUMPUR, Oct 23 (Bernama) -- Malaysian Green Technology Corporation (MGTC) has signed a Memorandum of Understanding (MoU) with Iskandar Halal Park and a cooperation agreement with Deutsche Gesellschaft für Internationale Zusammenarbeit (GIZ).
The signing ceremonies were witnessed by Minister of Energy, Science, Technology, Environment and Climate Change, Yeo Bee Yin, at the International Greentech and Eco Products Exhibition and Conference Malaysia (IGEM) 2018 recently.
In a statement today, MGTC said the cooperation with GIZ, a German development agency, is to manage training in Malaysia, while the agreement with the Iskandar Halal Park is to provide technical support in implementing green initiatives in the project's overall development.
Under the partnership with GIZ -- commissioned by the German Federal Ministry for Economic Cooperation and Development (BMZ) in cooperation with the ASEAN Land Transport Working Group -- MGTC is authorised to conduct GIZ's training courses on "Measurement, Reporting and Verification for Sustainable Transport" in Malaysia.
The course is for the Ministry of Transport, Ministry of Energy, Science, Technology, Environment and Climate Change (MESTECC), other relevant government agencies as well as academia, NGOs, the private sector and non-profit organisations, with an objective to train government officials and transport professionals on topics that include climate change in upcoming transport policies.
GIZ has been working with Malaysia, Indonesia, Vietnam, the Philippines and Thailand to implement the Transport and Climate Change project since 2012.
GIZ Thailand/ASEAN Sustainable Transport Projects director, Carolin Capone, said: "We are pleased to have signed the cooperation agreement to further strengthen our partnership with the Malaysian government. We look forward to working closely with the Malaysian Green Technology Corporation to mainstream climate protection in transport policies.
"We have chosen to collaborate with MGTC given their expertise in developing human capital in green technologies. The training will build expertise for assessing the impact of mitigation action and enable transport officials to make sustainable policy choices," she said.
MGTC's MoU with the Iskandar Halal Park, a next generation halal industrial park, will result in MGTC being a collaborator in implementing green initiatives in the project, which encompasses over 350 acres of land for development.
Iskandar Halal Park chief executive officer, Ahmad Lokman, said: "Our partnership with MGTC is indeed momentous as it demonstrates that 'halal' and 'sustainability' together have huge commercial and climate action opportunities. The Iskandar Halal Park has always been planned with a green philosophy and today is yet another step forward in that direction.
"With MGTC's expertise we will be able to enhance environmental-friendly and sustainable design features into the development. As we progress on this partnership, the Park will demonstrate that the integration of halal and green solutions in business and lifestyle are mutually beneficial and holistic," he added.
-- BERNAMA