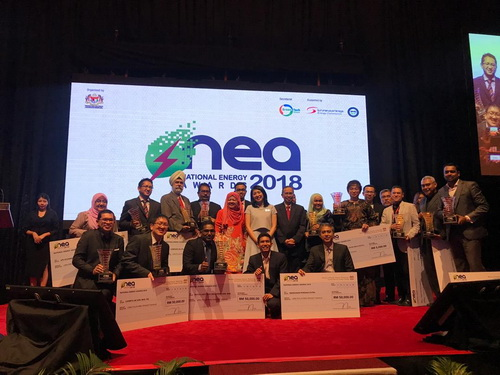 KUALA LUMPUR, Oct 20 (Bernama) -- Amid intense competition, 10 organisations emerged as the winners in the inaugural National Energy Awards (NEA) organised by the Ministry of Energy, Science, Technology, Environment and Climate Change at the Kuala Lumpur Convention Centre (KLCC) last night.
Cofreth (M) Sdn Bhd, the JKR Malaysia headquarters, the PKNS Shah Alam headquarters, Bangunan Perdana Putra, Dutch Lady Milk Industries Sdn Bhd and IOI Edible Oils Sdn Bhd won in the Energy Efficiency category for implementing energy efficiency measures in buildings and industries through innovative design.
Betatechnic Sdn Bhd, Solarge Sdn Bhd, SIRIM Bhd and Felda Palm Industries Sdn Bhd won in the Renewable Energy category for applying renewable energy technology including thermal, solar and biofuels.
The Ministry of Economic Affairs (Block B6) and Prime Minister' Office, Bangunan Perdana Putra received the Special Category (Ministry and Government Building) award.
"NEA serves as a natural progression to recognise and reward the organisations whose best practices are making a positive impact on their business and inspiring the rest of us to tread the sustainability journey with resolve," said Energy, Science, Technology, Environment and Climate Change minister, Yeo Bee Yin, during her speech at the NEA gala dinner held in conjunction with the International Greentech and Eco Products Exhibition & Conference Malaysia (IGEM) 2018.
She added that the competition was fierce and that she looks forward to even more participation next year.
-- BERNAMA