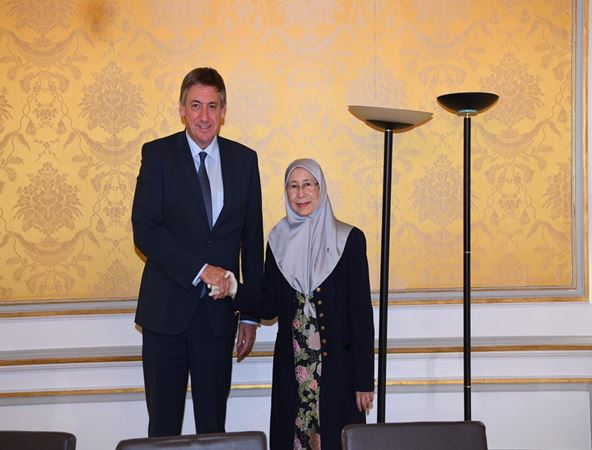 From Azizul Ahmad
BRUSSELS, Oct 18 (Bernama) -- Malaysia and the European Union (EU) plan to sign a partnership cooperation agreement (PCA) in January 2019, Deputy Prime Minister Datuk Seri Dr Wan Azizah Wan Ismail said.
Malaysia will be looking beyond bilateral trade and investment once the PCA is signed with the EU, she told Bernama and RTM after meeting Federica Maria Mogherini, High Representative of the EU for Foreign Affairs and Security Policy on Thursday.
A PCA is a comprehensive agreement on bilateral and multilateral cooperation comprising politics, economics, trade, investment, justice, culture, education, science and technology, healthcare, agriculture, tourism, energy, traffic, and environment.
Individual ASEAN members will first need to sign a PCA with the EU to qualify for the free-trade agreement (FTA).
"In our discussion, Federica Maria said the EU considers Malaysia as its important partner in the ASEAN region and is willing to cooperate for the common good.
"We also talked about the palm oil industry and the EU understands that it is the main source of (income of) 650,000 Malaysian smallholders.
"With some revaluation, including this, the PCA between Malaysia and the EU has been planned to be signed in January next year," she said.
Meanwhile, Dr Wan Azizah said the FTA plan between Malaysia and the EU would be given more depth, particularly on its implications to the country's economy.
The Deputy Prime Minister arrived here on Wednesday to lead the Malaysian delegation to the 12th Asia-Europe Meeting (ASEM) Summit starting today.
The two-day ASEM Summit will bring together the heads of state or government of 51 European and Asian countries, representatives of the EU and the Secretary-General of ASEAN.
Dr Wan Azizah is expected to attend the full sessions of the summit, deliver a statement at the second plenary session, as well as slated to hold bilateral meetings with the prime ministers of the Netherlands, Ireland and Norway, on the sidelines of the summit.
-- BERNAMA