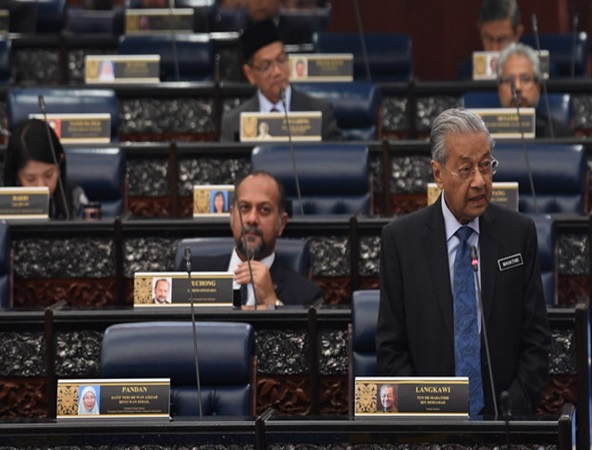 KUALA LUMPUR, Oct 18 (Bernama) – Tun Dr Mahathir Mohamad said bold and sweeping reforms that respond to the people's mandate are imperative to achieve the vision of Malaysia becoming a developed and inclusive nation.
The Prime Minister noted that in essence, the political transition following the May 9 general election reflects the hopes of the people for greater transparency, fiscal accountability and socioeconomic reform.
These reforms, he said, are needed if Malaysia hopes to recover, rebuild and re-emerge as a nation proud of its achievements and ability to compete at the highest level.
"The reforms include improving governance, accelerating innovation, boosting productivity and moving industries up the value chain," he said in the foreword of the Mid-Term Review of the 11th Malaysia Plan released by the Economic Affairs Ministry today.
He said efforts will also be made to enhance the wellbeing of the people, particularly those in the bottom 40 per cent of the household income group, and achieving inclusive growth.
Dr Mahathir said the Mid-Term Review, with new priorities and emphases, aims to reform existing policies and outline revised socioeconomic targets for 2018-2020, taking into account the aspirations of the new government, current economic challenges and global trends.
Efforts will focus on stimulating economic growth while ensuring greater benefits for all segments of society.
"In this regard, the principles of good governance, strong institutions as well as integrity and accountability will be reinforced throughout the administration of the new government to prevent corruption, leakages misappropriation and abuse of power," he said.
Dr Mahathir underscored that the New Malaysia will exude vigour, confidence and hope, and he believes that with the people's mandate, the nation will strive forward with pride and head held high.
"Lest we forget, we were once dubbed an Asian Tiger; to re-emerge as one, we will have to realign our focus and recalibrate our strategies," he said.
-- BERNAMA