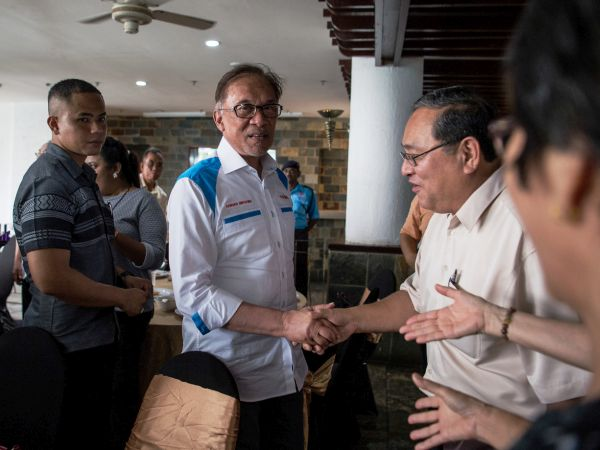 PORT DICKSON, Oct 10 (Bernama) -- Pakatan Harapan (PH) candidate in the Port Dickson by-election Datuk Seri Anwar Ibrahim today reminded party election machinery to not be swayed by the current condition which made their campaign work easier, unlike before.
With only three days left before polling, which is this Saturday, he said they should not forget the hardship they went through before and should work hard, as well as display good values and principles and to be honest when campaigning.
"Before, during the campaign, we lost in every thing, money wise, in terms of flag, compared to our rival Barisan Nasional (BN), but we still managed to win the people's votes and confidence.
"I want to remind the (PH) machinery, I want to be a good, clean leader, and to be a good leader and parliamentarian, the machinery also has to be good and sincere," he said in his speech at the meeting with the PH election machinery here today.
Anwar said he did not want the party machinery to work simply because he was the candidate for the prime minister's post, but for wanting to see the country being governed well and fairly without power abuse.
He suggested members of PH election machinery to go from house to house in their campaign to obtain feedback from voters on their needs, as well as explain to the voters on what PH could do for them.
The Port Dickson by-election will witness a seven-cornered fight involving Anwar, 71, PAS candidate Lt Col (Rtd) Mohd Nazari Mokhtar and five Independent candidates, who include former Negeri Sembilan menteri besar Tan Sri Mohd Isa Abdul Samad and Anwar's former personal aide Mohd Saiful Bukhari Azlan.
The by-election was called after its incumbent Member of Parliament Datuk Danyal Balagopal Abdullah vacated the seat last Sept 12 to give way for Anwar to return to the Dewan Rakyat.
In the last general election on May 9, Danyal Balagopal, 68, won the seat with a majority of 17,710 votes against BN's Datuk V.S.Mogan and Mahfuz Roslan, from PAS.
The Port Dickson parliamentary constituency has 75,770 registered voters, comprising 43 per cent Malay, Chinese (33 per cent), Indian (22 per cent) and other races (two per cent).
-- BERNAMA