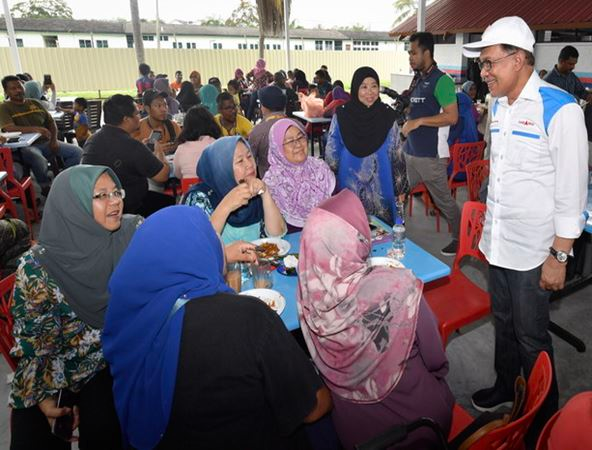 PORT DICKSON, Oct 10 (Bernama) -- Datuk Seri Anwar Ibrahim said today he did not see anything wrong in the criticism hurled by former Wanita UMNO chief Tan Sri Rafidah Aziz at the Pakatan Harapan (PH) leadership.
The PKR president-elect said he respected her opinion and added that she has wide experience and often gives good advice.
"She (Rafidah) is a person who gives good advice. She has the experience to review these kinds of things, so it is not wrong for her to comment," the Pakatan Harapan candidate for the Port Dickson parliamentary by-election said to reporters during a walkabout at a sale at Pernama, Port Dickson Camp, here.
Also present was former UMNO Supreme Council member Tan Sri Syed Hamid Albar who made his maiden public appearance as a member of Parti Pribumi Bersatu Malaysia (Bersatu) to help campaign for Anwar.
Rafidah yesterday warned the Pakatan Harapan government that it can lose power if it puts off making important decisions due to it being shackled by its election manifesto promises.
She said she was surprised that Prime Minister Tun Dr Mahathir Mohamad had to give up the education portfolio after it was pointed out that the PH election manifesto disallowed the prime minister from holding two portfolios.
Syed Hamid said he agreed with Rafidah that the PH government is overly dependent on the party's election manifesto.
"What Rafidah said is true. Any political party will attempt to fulfill its manifesto but it has to consider the financial affordability.
"What is important is that the people want freedom, it is now an open society and the elected representatives must be people-friendly," he said.
-- BERNAMA