KUALA LUMPUR, Oct 4 (Bernama) -- The six divers from the Fire and Rescue Department's Water Rescue Unit (PPDA) who died while seacrhing for a teenager who fell into a disused mining pool in Taman Putra Perdana, Puchong yesterday, were caught in a strong 'whirlpool'.
Sepang District Police chief ACP Abdul Aziz Ali said the divers had followed standard operating procedures (SOP) in donning complete diving equipment and were tied to a single rope.
He said the unit went down to the pond at 9.15 pm on Wednesday while it was drizzling to find and rescue a 17-year-old boy who was feared drowned after slipping and falling into it while out fishing with his two friends.
"Suddenly a strong current occurred in the area causing all victims to spin in the water while all their equipment came off of them," he told reporters when met at the scene.
He said all the victims struggled in the water for about 30 minutes while other personnel tried to rescue them but all of them were found unconscious when they were pulled out of the water.
Abdul Aziz said all of them were then pulled over to the bank but were still unconscious.
He said the medical team at the scene tried to save the victims by performing cardiopulmonary resuscitation (CPR) on them but to no avail.
Meanwhile, Abdul Aziz said the rest of the search and rescue operation to locate the teenager that would involve a team from the Port Klang Marine Operations Force would be resumed at 7.30am today.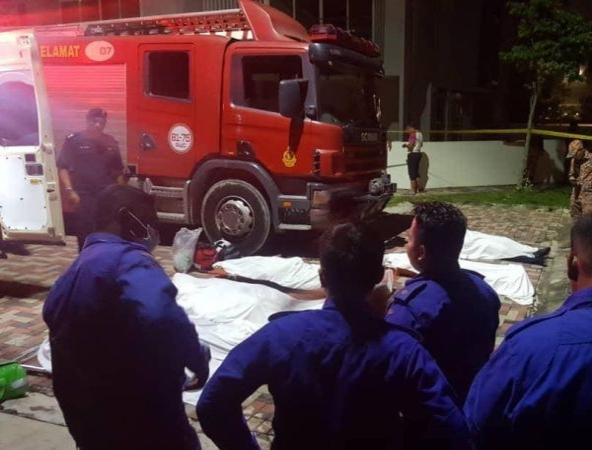 Four of the divers who died, from the Port Klang Fire and Rescue station, were identified as Mohd Fatah Hashim, 34, Izatul Akma Wan Ibrahim, 32, Mazlan Omarbaki, 25, and Yahya Ali, 24.
The other two; Adnan Othman, 33, and Muhammad Hifdzul Malik Shaari, 25, were from the Shah Alam station.
-- BERNAMA