NEW YORK, Sept 27 (Bernama) – Malaysian Prime Minister Tun Dr Mahathir Mohamad vowed on Wednesday he will go all out to ensure that the new Pakatan Harapan administration he led is corruption-free.
He said his government and members of the cabinet must set the best example in the fight against corruption.
"The first thing we need to do, of course, is for the leaders not to be corrupt. If the leaders are corrupt, then there's no way we're going to stop corruption from spreading.
''In any country, there would be corruption to some degree but the idea is to keep corruption to the minimum and that is done by what we call leadership by example," he said at a panel discussion at the Bloomberg Global Business Forum, moderated by Fareed Zakaria of CNN, here.
The other panellists were Netherlands Prime Minister Mark Rutte, New Zealand Prime Minister Jacinda Ardern and CEO of Royal DSM Feike Sijbesma.
Dr Mahathir is here on a five-day working visit, during which he will attend the 73rd session of the United Nations General Assembly.
He said Malaysians, at this moment, were convinced that the new government had managed to stop the corruption that had characterised the previous government.
The new government was serious in imposing restrictions on the cabinet members by asking them, including him as the prime minister, to declare their personal assets, properties and earnings, which would be scrutinised by the Malaysian Anti-Corruption Commission (MACC), he said.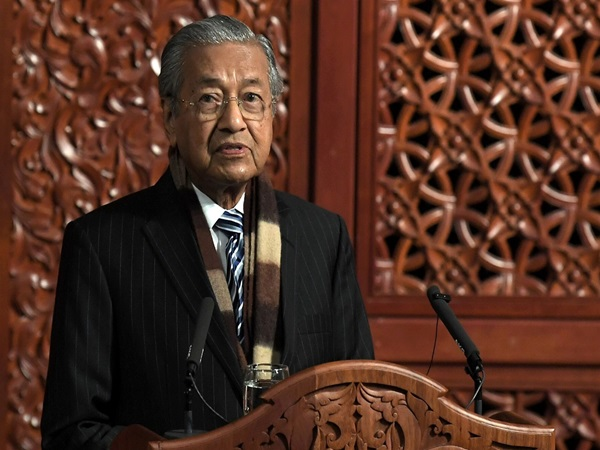 "If the leader is not corrupt, then there will be less corruption in the system. So, that is what we are doing now, we are very serious.
"So, we're doing everything we can to reduce, or even eliminate, corruption," he said.
When asked how long he would stay on as the Prime Minister, the 93-year-old Dr Mahathir said: "I made a promise that I would not stay long as the Prime Minister, maybe two years, maybe more, maybe less."
He said he accepted the idea to be the prime minister for the second time as PKR president-elect Datuk Seri Anwar Ibrahim was in jail then. Dr Mahathir was prime minister of Malaysia from 1981 to 2003.
"So, I agreed that I will be there for, maybe, two years and then the new leader will take over," he said.
When asked on his recipe of keeping healthy, Dr Mahathir, the world's oldest head of government, shared his daily routine.
"I do keep to a strict diet. I don't overeat. I do a little exercise, and I have six hours of sleep. If you live a fairly well-regulated life, you would survive. But if you get some disease which is incurable, there's nothing you can do," he said, drawing laughter from the panellists and audience.
Rutte immediately turned to Fareed and said, "It means you and I can still be prime minister at 90," and the moderator quipped, "I do think this is the ultimate political comeback in my 25 years of watching politics. I don't think there's another one like it".
-- BERNAMA