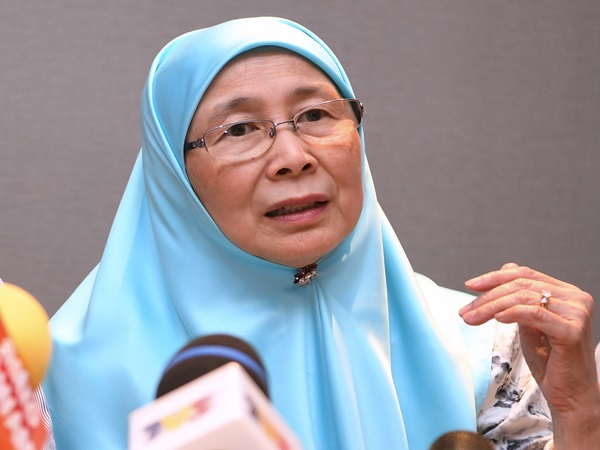 PUTRAJAYA, Sept 21 (Bernama) -- Deputy Prime Minister Datuk Seri Dr Wan Azizah Wan Ismail said her latest statement on the marriage of a 15-year-old girl to a 44-year-old man in Kelantan did not mean that she condoned child marriages.
Stressing that the welfare of a child should be the priority at all times, she said marriage should not be used as a way out of poverty.
Dr Wan Azizah said her statement on the issue was made based on a report by the Social Welfare officers that the marriage was sanctioned by the Tumpat Syariah Lower Court and was legal according to existing law.
"As the Deputy Prime Minister and Women, Family and Community Development Minister, I want to reiterate that we will raise the minimum age of marriage to 18.
"I chaired the meeting to discuss the issue with the relevant stakeholders on Sept 13 which, among others, decided that the Women, Family and Community Development Ministry will work with the Malaysian Islamic Development Department (JAKIM) to prepare a working paper to increase the age limit of marriage for Muslims before it is tabled at a meeting with the menteris besar and chief ministers for their support," she said in a statement here today.
Dr Wan Azizah said a Cabinet paper would also be prepared on the raising of the minimum age of marriage for non-Muslims to 18.
She said custodians of customs and traditions would be informed about the negative effects of the underage marriage on the health and safety of children as well as why the minimum age limit was important.
The ministry and Syariah Judiciary Department would work together to formulate more stringent and comprehensive guidelines for the process of approving marriages involving children by the Syariah Courts which, among others, would consider the risks of pregnancy and giving birth at a young age.
Dr Wan Azizah said she had a discussion with Ministers in the Prime Minister's Department Datuk Dr Mujahid Yusof Rawa and Datuk Liew Vui Keong on the weaknesses and inconsistencies of the Syariah and civil laws relating to child marriages.
The Deputy Prime Minister said she had also instructed her officers to review existing laws to ensure that the welfare and interests of the children were preserved under any circumstances.
The amendments to the law were just part of the efforts to be implemented, but a comprehensive approach should be taken involving education, social networking, poverty eradication and support systems for the children, she added.
"The best interest of a child is important for me and I will not compromise on this," she said.
-- BERNAMA