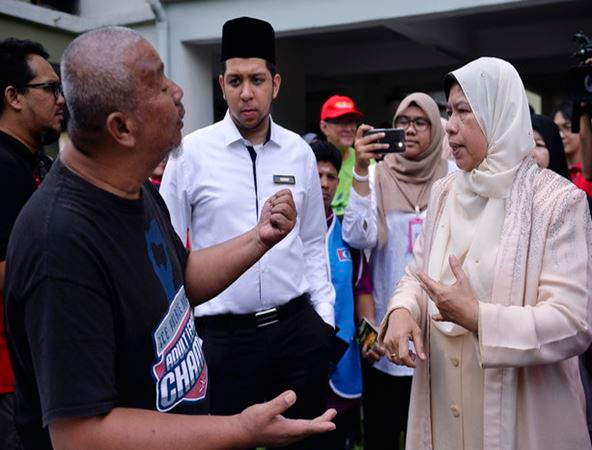 KUALA LUMPUR, Sept 14 (Bernama) -- PKR Wanita chief Zuraida Kamaruddin today expressed her support for Datuk Seri Anwar Ibrahim who will contest in the Port Dickson parliamentary seat by-election and will assist him in the election.
Zuraida, who was earlier reported to have said that the decision to vacate Port Dickson parliamentary seat was made without following the right channels, today expressed her continuous support as a loyal party member though she hoped it would not be repeated.
"It has happened, I have moved on. As a loyal party member I will fight for the party," she told reporters after visiting the family of four-year-old girl who fell to her death from the balcony of the family unit at the 17th floor, Block A, PPR Kota Damansara, here today.
Meanwhile in SEPANG, Selangor Menteri Besar Amiruddin Shari said every PKR member knew their responsibility to ensure Datuk Seri Anwar Ibrahim's victory and expressed Selangor's commitment to mobilise machinery for the by-election.
Amirudin, who is also PKR's central executive council (MPP) member, hoped that the 'decision-making party' had carried out a detailed study before deciding for Anwar to contest the seat as the previous elections' results showed that Port Dickson was not such a safe place.
In SEREMBAN, PKR secretary-general Datuk Saifuddin Nasution Ismail today announced Negeri Sembilan Menteri Besar Aminuddin Harun would lead Pakatan Harapan (PH) election machinery for Port Dickson by-election and he would be assisted by PKR vice-president Nurul Izzah Anwar.
Port Dickson parliamentary seat was vacated to pave the way for Anwar to contest after the party incumbent, Datuk Danyal Balagopal Abdullah announced his resignation. In the 14th General Election, Danyal won the seat with a majority of 17,710 votes defeating BN and PAS candidates.
-- BERNAMA