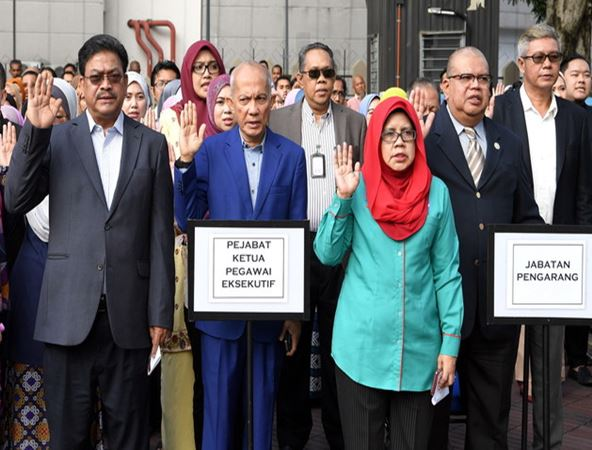 KUALA LUMPUR, Sept 4 (Bernama) -- Bernama chief executive officer Datuk Zulkefli Salleh has called on all staff of the national news agency to practise excellent work culture in discharging their daily duties.
He also urged Bernama staff to appreciate the country's independence by understanding the value of freedom.
"Freedom means to free ourselves from negative attitudes, such as not wanting to work with colleagues, skipping work and hating each other," he said when addressing the Bernama monthly assembly here today.
On the independence day celebrations, Zulkefli said this year's theme "Sayangi Malaysiaku" (Love My Malaysia) was very much in line with the country's multiracial and multireligious population.
"I hope that Bernama staff can help enhance the spirit of nationalism. Past leaders fought hard for the country's independence. Many of us especially the younger generation don't know how difficult it was to gain independence.
"During the Japanese colonisation, Malaysians did not enjoy the various facilities and comfort that we all have now...this is all the result of the sacrifices made by past leaders, especially the Father of Independence who was also the country's first prime minister Tunku Abdul Rahman," he said.
Meanwhile, Zulkefli urged the staff who were promoted, confirmed to their posts and who was named the employee of the month to remain committed in carrying out their duties.
He also expressed appreciation for the hard work put in by the staff of Bernama to obtain the ISO 9001:2015 certification from Lloyd's Register Quality Assurance and the Information Security Management Systems (ISMS) certification from SIRIM QAS International Sdn Bhd.
"This (ISO) certificate recognises Bernama's capabilities and quality of service to its customers.
"Thank you and congratulations to all Bernama staff from all departments who have been involved directly or indirectly in helping to obtain these recognitions," he said.
-- BERNAMA