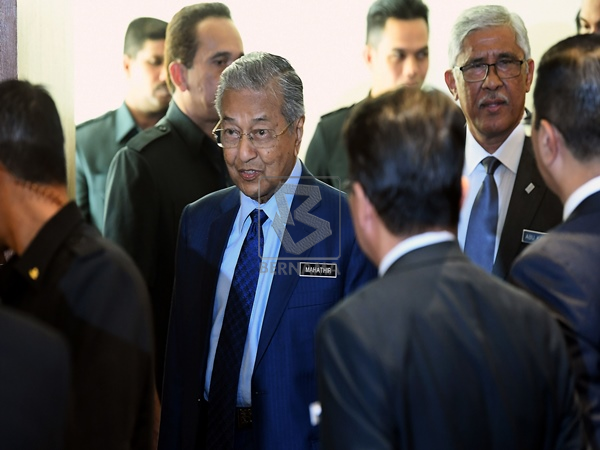 PUTRAJAYA, Aug 13 (Bernama) -- Prime Minister Tun Dr Mahathir Mohamad said today he does not interfere in the internal affairs of other political parties.
He responded thus when asked to comment on a PKR lawmaker's claim that Dr Mahathir and Council of Eminent Persons (CEP) chief Tun Daim Zainuddin were trying to stop newly-elected PKR president Datuk Seri Anwar Ibrahim from becoming prime minister.
"That is a nice allegation. That person should prove a bit. I have never been talking to anybody else about this thing. I stay away. I have no business in the internal affairs of other parties," Dr Mahathir told reporters after chairing the third meeting of the Special Cabinet Committee on Anti-Corruption here.
Kapar MP Abdullah Sani Abdul Hamid reportedly claimed that Anwar would face problems taking over the premiership from Dr Mahathir if Rafizi Ramli was unsuccessful in unseating Datuk Seri Mohamed Azmin Ali as PKR deputy president in the upcoming party polls.
Prior to the May 9 general election, Pakatan Harapan (PH) leaders had agreed that Dr Mahathir would be made the prime minister if the coalition won the general election. They also agreed that Anwar, who recently won the PKR presidency unopposed, would take over the post from Dr Mahathir.
Dr Mahathir was also asked how long it would take to bring to Malaysia a private jet belonging to fugitive businessman Low Taek Jho or Jho Low. The Prime Minister said the jet would be brought home as soon as possible, but after it had undergone a service and rechecked.
"The flight has been lying on the ground for a long time and has not been flown often. So it must be serviced, checked and rechecked. Once it is done, it will be brought here (Malaysia)," he added.
Dr Mahathir was reported as saying that the government was making arrangements to bring back the private jet, which was impounded by Singapore authorities in 2017 and grounded at the Seletar Airport.
It was also reported that the impounded Bombardier Global 5000 aircraft was part of some US$1 billion in assets allegedly acquired with funds misappropriated from 1Malaysia Development Bhd (1MDB).
On a claim that some Malaysians feel that the new government was spending too much time on curbing corruption and not on other promises, Dr Mahathir said the government "has been and is doing" many other things but the media was only interested in anti-corruption, 1MDB and the East Coast Rail Link (ECRL).
"If you ask us what else we are doing, I can tell you, quite a lot. There is also a lot of work to do. It is not just 100 days. It is about other elections coming. We will continue to do a lot of good things for this country, not in 100 days, but in 1,000 days," he said when asked about the PH way forward after the 100-day agenda.
Dr Mahathir, who is scheduled to visit China this week, said: "We are looking at agreements made by the previous government. If we can drop (them), we will drop them, or modify (them), we will modify them. We may postpone some of them. But to breach some of the agreements, it will cost us a lot of money.
"But, most importantly, it is for us to save money. The previous government has entered into huge borrowings and we have to reduce the borrowings. Otherwise, if we do not service the borrowings, we will go bankrupt."
-- BERNAMA