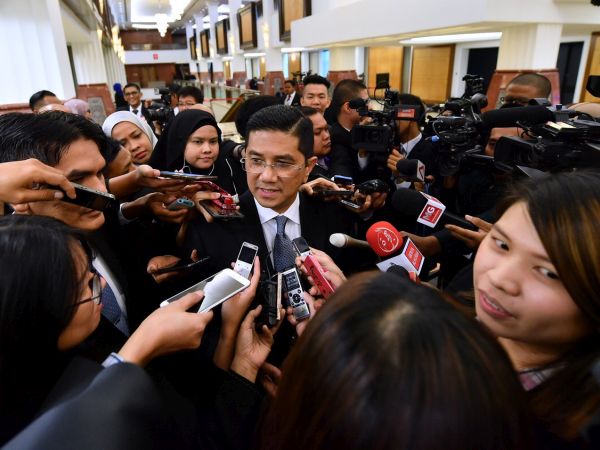 KUALA LUMPUR, Aug 1 (Bernama) -- Khazanah Nasional Bhd's new management will ensure the strategic investment fund's Bumiputera equity holdings in strategic companies are protected and expanded through government engagement, said Economic Affairs Minister Datuk Seri Azmin Ali.
Its equity holdings had been diluted of late, resulting in a reduction in Khazanah's stakes in strategic firms, including utilities such as Tenaga Nasional Bhd and Telekom Malaysia Bhd, he said when winding up the debate on the motion of thanks for the Yang diPertuan Agong's Royal Address on his ministry's behalf in the Dewan Rakyat today.
Azmin, who was recently appointed as a Khazanah Director, said the policy to empower Bumiputeras would be continued and strengthened in view of the low equity ownership level based on the socio-economic indicators, with equity ownership in the corporate sector still below 30 per cent.
He said this was in line with the original aim for setting up Khazanah, including controlling government's strategic assets such as utility firms.
Replying to Datuk Seri Mustapa Mohamed\'s (BN-Jeli) question on the status of Majlis Amanah Rakyat, the Bumiputera Agenda Steering Unit (Teraju) dan Ekuiti Nasional Bhd (Ekuinas), Azmin said Teraju's role, along with those of other Bumiputera development organisations such as the Bumiputera Investment Foundation and Ekuinas, would be reassessed and streamlined to ensure a more effective management and the original goals were achieved.
"The proposed way of doing business for Bumiputeras will be enhanced and improved to be more holistic and comprehensive so that Bumiputera involvement will remain significant for their economic development," he explained.
He added that his ministry was also identifying potential growth areas to be focused on as well as the assistance and forms of strategic cooperation that could be established to support the Bumiputera Economic Empowerment Agenda.
-- BERNAMA