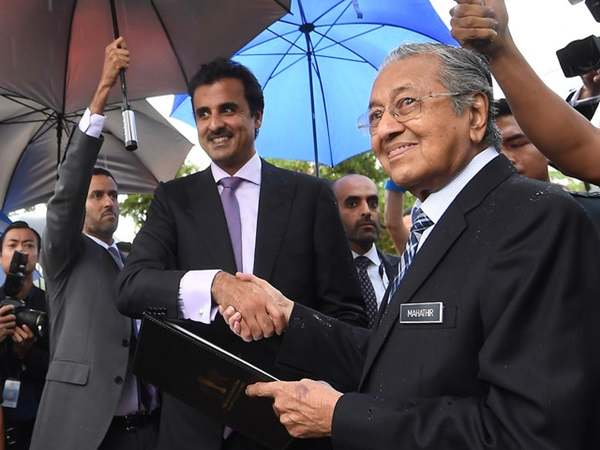 PUTRAJAYA, Dec 7 (Bernama) – Prime Minister Tun Dr Mahathir Mohamad and the Emir of Qatar Sheikh Tamim Hamad Al Thani have unveiled the sculpture of a raised hand signifying international effort in combating corruption.
It was launched in conjunction with the third Sheikh Tamim Anti-Corruption International Excellence Award Programme as this is the first time Malaysia is chosen to host the prestigious programme from Dec 7 to 10.
The 12-metre steel monument was a gift from the Qatar government to the prime minister and the people of Malaysia as a special acknowledgement in a form of certificate of appreciation for strength shown in the fight against corruption.
The ceremony was held at Dataran Masjid Putra and witnessed by members of the delegation and a number of senior officials.
Dr Mahathir and Sheikh Tamim are expected to honour the winners of the four awards which will be for Lifetime/Outstanding Achievement, Innovation, Youth Creativity and Engagement and Academic Research and Education at Putrajaya International Convention Centre (PICC) today.
The ceremony was organised by the Rule of Law and Anti-Corruption Centre (ROLACC) in Doha, Qatar with the support of United Nations Office on Drugs and Crime (UNODC).
The eighth Emir of Qatar arrived in Malaysia on Wednesday for a three-day working visit and made his maiden state visit to Malaysia in October last year.
-- BERNAMA