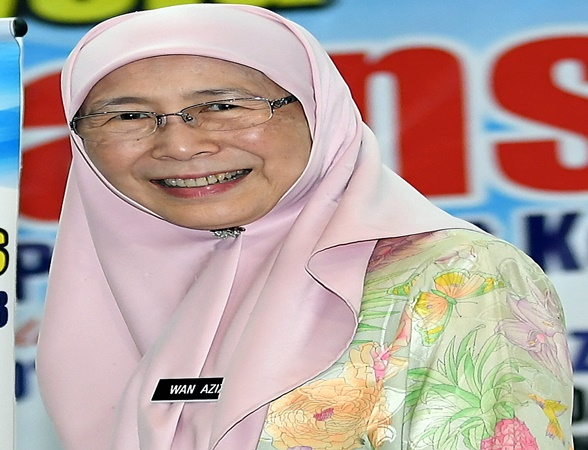 Deputy Prime Minister Datuk Seri Dr Wan Azizah Wan Ismail
PORT DICKSON, Oct 12 (Bernama) -- Deputy Prime Minister Datuk Seri Dr Wan Azizah Wan Ismail has advised students to master knowledge in modern science and technology.
Dr Wan Azizah, who is also Women, Family and Community Development Minister, said the students' skills in various knowledge disciplines were most important as they could improve the competitiveness of Malaysians at the global level.
"In addition, students should always uphold humanitarian values and stick to moral and ethical principles.
"They should exploit the skills and knowledge acquired in school to be applied in their daily life," she said when addressing the audience at the Graduation Ceremony of Sekolah Menengah Kebangsaan Haji Abdul Samad, Port Dickson.
Also present was the Director of the Negeri Sembilan Education Department, Pkharuddin Ghazali.
A total of 126 Form Five and Special Education students received their graduation certificates at the ceremony.
Dr Wan Azizah said parents and teachers also played a role in ensuring the continuity of education in school and at home.
"If learning is carried out at home and in school, then the students will succeed in securing outstanding results in education," she said.
However, she said, excellence in education was not the yardstick for success.
"If one fails in anything, don't let the failure become an obstacle in achieving your dream. If one fails in one aspect, then get it from other aspects but one has to work hard.
"Possibly the one you choose in life may not materialise because of other factors. Do not ever lose hope," she added.
-- BERNAMA