MBJB Run can promote city as preferred sporting destination- Mayor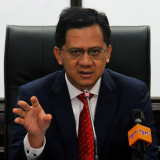 JOHOR BAHRU, May 29 (Bernama) -- The MBJB Colour Run 2019 to be held here on July 6 can double up as a platform to market Johor Bahru as a preferred destination for sporting events, and to also promote the state's Visit Johor Year 2020 campaign.

Johor Bahru Mayor Datuk Amran A Rahman said Johor, who is also hosting the Malaysian Games (Sukma) next year, will do its part in promoting the city as a vibrant, active and healthier sporting option for foreign tourists.

"This run was also organised in line with the state government's aim of encouraging society practise a healthier lifestyle and to live in harmony," he told reporters at the Johor Bahru City Council Headquarters here today, adding that the council has targetted 4,000 registrations from in and out of the country for the run.


He said the run will feature two distance categories - the 5km and 10km - and will both begin and end at the MBJB grounds.

Participants will receive a race kit consisting of a t-shirt, finisher's medal, colour powder, race bib and also personal insurance coverage.

Those interested in joining the event can get more details by downloading the JomRun application or visit http://jomrun.com/event/mbjb-colour-run

-- BERNAMA

.....