Segamat hospital 'cradle of death' claims totally baseless - Johor Health Director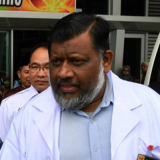 JOHOR BAHRU, July 1 (Bernama) -- Allegations that the Segamat Hospital was now a 'cradle of death' for newborn babies are totally baseless and generalised, the Johor State Health Department said today.

Lambasting claims that had been making the rounds on social media that the hospital had a high infant mortality rate (IMR), State Health Director Dr Selahuddeen Abd Aziz said based on statistics,the Segamat hospital had an IMR of 5.0 per 1,000 live births.

That figure is still within the Health Ministry's accepted standards of 5.5 per 1,000 live births, he said.

"For the record, all infant mortality cases will be investigated to identify cause of death, which among others, could include defect, infections, brain haemorrhage, kernicterus (rare kind of brain damage that can happen in newborns with jaundice) and inborn error of metabolism.

"If the investigations find that there has been negligence during the administration of treatment, action will be taken," he said in statement here today.

In view of this, he advised the public to verify information prior to throwing allegations on social media, which he added could paint a negative picture of health services here.

Dr Selahuddeen was responding to a Facebook user's posting on June 28 which claimed that the Segamat hospital was suffering from infant mortality cases despite the country being independent for more than 60 years.

In the posting, which has gone viral, the Facebook user also accused doctors there of lacking expertise in the field of obstetrics and gynaecology.

-- BERNAMA




.
.....