Marrybrown's first tie-up with Sultan Ismail Hospital with opening of 'MB Playland'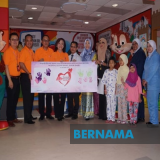 JOHOR BAHRU, Oct 14 -- Malaysia's first and largest homegrown fast-food chain, Marrybrown has announced its first collaboration with Sultan Ismail Hospital (HSI) here with the opening and handover of 'MB Playland', a children's play area fully supported by the company for the hospital.
Chairman of Marrybrown Charities Association, Datuk Lawrence Liew said MB Playland marks a significant start of Marrybrown's CSR initiative under the umbrella of the Marrybrown Charities Association.

"We are very proud to collaborate with HSI as we open the first MB Playland here in Johor Bahru and our targets to raise a positive thinking and confident child through MB Playland, which serves as an appropriate distraction especially for young patients coming for treatment.
"There is a need for children to play and enjoy themselves even while waiting for medical treatment, and Sultan Ismail Hospital is proven to have the perfect space to develop a playland in its premise," he said in a statement.
Liew added in order to create a better future for Malaysians, Marrybrown started Marrybrown Charities Association with the purpose providing help and support for underprivileged children, single mothers and senior citizens through various charity events.....