Elected representatives must be voice of the people - Johor Sultan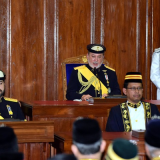 JOHOR BAHRU, June 27 (Bernama) -- The Sultan of Johor today called on all people's representatives in the state to undertake their responsibilities in being the voices of their constituents, and not act in their own interests.
Sultan Ibrahim Almarhum Sultan Iskandar expressed the hope that each representative would provide useful view points and strong support to the Menteri Besar and the state government, and not act to divide the government.

Speaking at the opening of the second sitting of the 14th State Legislative Assembly at Bangunan Sultan Ibrahim Bukit Timbalan here, Sultan Ibrahim reminded representatives that they each bore a big responsibility in keeping the trust of the Johor people and state.
"Therefore, undertake your duties with honesty and sincerity, always placing the interests of the people and the state first, instead of personal interests or the interests of political parties," he said, stressing that as the ruler of the state, he would always observe the actions of assemblymen and caution them when necessary, to ensure the administration of the state was conducted well.
The Sultan also urged the representatives to understand the history of Johor and strengthen their knowledge of state administrative matters so that decisions could be made with accuracy and consistency.....