Flights at Sibu Airport cancelled due to runway lighting issues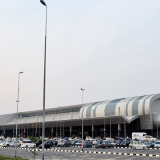 SIBU, Aug 13 (Bernama) -- Twelve flights were cancelled as at 7pm tonight following runway lighting faults at Sibu Airport.

From the total, 10 were AirAsia flights while two were MasWings flights involving a total of 1,561 passengers.
Sibu Airport manager, Zainuddin Abu Nasir said the lighting problem was detected at about 3 pm and a decision to close the runway from 7 pm to 6 am the following day was made on safety consideration as well as to allow repair works to be carried out.....