Sandakan by-election: Choose candidate that has strong ties with government - Yusof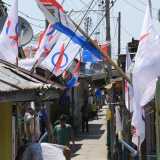 SANDAKAN, May 9 (Bernama) -- Sandakan by-election voters were today urged to vote for the candidate who already has strong ties with the current government for his or her voice to be easily heard.


Sabah Education and Innovation Minister Datuk Dr Yusof Yacob, referring to DAP candidate Vivian Wong Shir Yee, hoped the people could gauge for themselves the Government's sincerity in transforming Sabah for the better.

"This new State Government wants to help create a learned society in Sabah, a society that has the required skills to meet demands of the employment market."

"We already have the right plans to solve the problems faced by the people, and among the priority is to tackle youth unemployment," he said when officiating the opening of the 2019 Sandakan Exhibition and Career Carnival, here, today.

According to Yusof, an estimated 70,000 graduates in Sabah are currently unemployed, adding that efforts are being made to retrain them with skills that are in demand in the job market.

Besides this, Yusof said the government is offering opportunities to Sijil Pelajaran Malaysia and Sijil Tinggi Persekolahan Malaysia top scorers to further their studies at some of the best universities in the world on state or the Sabah Foundation scholarships.

"We want them to return home after that and plan and spearhead Sabah's future development with creative and visionary ideas," he said.

-- BERNAMA

.....