Kedah to start Youth Towns to produce more young entrepreneurs -- Mukhriz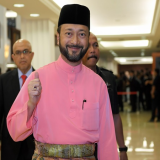 By Hamdan Ismail
LANGKAWI, Nov 3 (Bernama) -- The Kedah government plans to start "Youth Towns" in selected districts in the state as a development strategy to make it easier for youths to start businesses.
Menteri Besar Datuk Seri Mukhriz Tun Mahathir said integrated and accessible facilities would be provided in the designated districts, with the hope that more youths would be successful in their business participations.
"At the same time, (this strategy will) pave the way for an economically self-sufficient society that will not be dependent on government handouts to prosper," he said in his speech at the soft launch of the 9th Muslim World Biz 2019 and the Muslim World Entrepreneur Development Awards (MWEDA) 2018 presentation here tonight.
The text of his speech was read by the State Exco for Information, Communications and Multimedia, and Non-Governmental Organisations, Mohd Firdaus Ahmad.
Mukhriz said empowering entrepreneurs, especially amongst the youths, through various programmes and initiatives is part of the present government's pledge to elevate the socio-economic standards of the people in the state.
He said the types of support given to budding young entrepreneurs had to be diversified for them to overcome any challenges in building up their businesses.
"Apart from financing solutions, they also need assistance in capacity building, managerial guidance and moral support, which could be delivered by local governments, educational institutions and business conglomerates.

"One important mechanism for supporting entrepreneurship and enhancing progress is to acknowledge their contributions and reward accomplishments," he added.
Mukhriz said events such as the Muslim World Biz were crucial as a platform to discuss national and international economic growth issues with entrepreneurs playing a major role in that progress.
"It is a great platform that consists of integrated activities to connect various organisations and to disseminate knowledge and experiences across a number of professional networks," he added.
The soft launch tonight came as an introduction to the 9th Muslim World Biz 2019 to be held in Kuala Lumpur from April 3-5 next year.....