Storm damages 120 houses in Bagan Datuk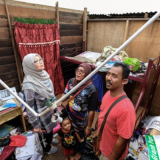 BAGAN DATUK, Aug 14 (Bernama) -- At least 120 homes in Hutan Melintang and Rungkup, here were badly damaged by strong winds and thunderstorm in the wake of Typhoon Lekima, here on Saturday.
Dr Zaliha Mustafa, who is the political secretary to Woman, Family and Community Development Minister, Datuk Seri Dr Wan Azizah Wan Ismail, who is also Deputy Prime Minister, said 80 homes in Hutan Melintang and 40 in Rungkup were partially destroyed as the roofs were blown off and the house structures collapsed.

Zaliha said losses were estimated at RM173,300.....