Penang police arrest 7, seize drugs worth RM510,820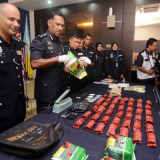 GEORGE TOWN, May 23 (Bernama) -- Penang police crippled two drug distribution syndicates after arresting seven men and seized an assortment of drugs worth RM510,820 in separate raids in the Northeast District recently.

State Police Chief Datuk T Narenasagaran said the arrests were based on successful intelligence and surveillance conducted by the Penang Contingent Narcotics Crime Investigations Department and its counterparts at the Northeast district over the past two weeks.
"In the first raid at 8.30am on Saturday, police arrested a 51-year-old man in a car in Jelutong and seized 4,139 grammes of Syabu kept in Chinese tea bags as a way to hoodwink the authorities," he said in a media conference here today.
However, that tactic did not work and following the arrest, police also seized the suspect's Honda CRV, Narenasagaran said, adding that investigations revealed that he had been involved in drug distribution activities in the State in the past three months.
In the second arrest, Narenasagaran said between 1pm on Sunday and 2.30am on Tuesday, police arrested six men aged between 23 and 34 at four separate locations around Tanjung Tokong and Jelutong, from which they seized various types of drugs worth RM303,820?.....