Perak reps can attend assembly session despite exco swearing in ceremony delay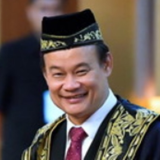 IPOH, July 19 (Bernama) -- The postponement of the Perak state executive council members swearing in ceremony, originally scheduled for July 11, has no bearing on the 14th state legislative assembly sitting this Tuesday.
Perak Assembly Speaker Datuk Ngeh Koo Ham said according to the constitution, exco members are appointed for a whole term and the swearing in ceremony is only for the renewal of their commitment of the position that they hold.
"Legally, they are appointed for a five-year term, unless they are stripped of their positions or they have resigned.
"Therefore there is no issue of state assemblymen not being able to attend the assembly as no party has the right to strip an assemblyman of his or her position as they are elected by the people," he clarified at a press conference today called in conjunction with the upcoming state assembly sitting.

Ngeh, who is also Perak DAP advisor, said the same situation applies even when an assemblymen exits a party.
On July 9, the Sultan of Perak, Sultan Nazrin Shah ordered for the appointment and swearing in ceremony of the state executive councillors, scheduled for July 11, to be postponed to a date that will be fixed later.....