Mahathir attends Petronas celebratory concert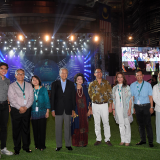 KUALA LUMPUR, Aug 17 (Bernama) -- Petronas put on a rousing concert attended by Prime Minister Tun Dr Mahathir Mohamad here tonight as part of celebratory events lined up to mark its 45th anniversary.
The musical extravaganza took place at The Plaza, nestled under the iconic Petronas Twin Towers, the headquarters of Malaysia's fully integrated oil and gas multinational ranked among the largest corporations on FORTUNE Global 500.

The concert featured 45 popular local artistes who have made their name over the past four decades, including Amy Search, Ella, Jaclyn Victor, M. Nasir, Ruffedge and others.....