Haze disappoints but does not deter tourists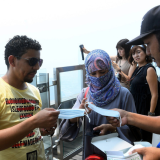 KUALA LUMPUR, Sept 12 -- The poor air quality in the city caused by the ongoing haze, is not deterring local and foreign tourists alike, from continuing with their visits to various attractions here including KL Tower.
When Bernama paid a visit to the iconic structure, viewing activities on its Sky Deck were continuing as per normal, with the KL Tower management taking the initiative to distribute protective masks to visitors.

"It is a bit sad because my aim is to capture the view of KL, but visibility today is foggy because of the haze", said Indian tourist Mukesh Kathed, 47, also noting that the weather was hotter than usual, while Dutch traveller, Hans Van Bijsterveld, 28, hopes to find better weather in Pulau Perhentian, Terengganu which he plans to visit this weekend.....