Cashless shopping at Kampung Baru 'Kashless' Ramadan Bazaar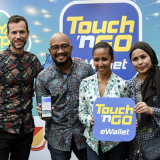 KUALA LUMPUR, May 10 (Bernama) -- The Ramadan Bazaar in Kampung Baru has now gone "Kashless", thanks to Touch'n Go e-wallet where shoppers only need to scan QR code instead of paying in cash when making a purchase.

TNG Digital Sdn Bhd's Chief Executive Officer Syahrunizam Samsudin said the 'Kashless' Ramadan bazaar is one of the company's initiatives to promote e-wallet payments.


Even those who want to make a donation at the Masjid Jamek Kampung Baru can also use the company's Touch'n Go e-wallet.

"We want to better connect with the community by making technology more inclusive, in a way that will benefit users and merchants alike," he said after the launching of the Halaman Sempoi at Warisan Kelab Sultan Suleiman today.

Syahrunizam said visitors would also find exciting rewards at the bazaar including cashbacks worth RM1,000,000 through 'Ketupat Runtuh', or exclusive merchandise purchase through 'Hadiah Extra Sempoi' and more when buying cashless.

At the same event, the company embarked on a program to ensure that any excess food at the bazaar would be donated to people in need where the excess food would be collected and packed by volunteers before distributing it to the homeless and urban poor.

Earlier, TNG Digital's team distributed 'bubur lambuk' to the public at Masjid Jamek in the presence of Selangor Royalty Tengku Datin Paduka Setia Zatashah Sultan Sharafuddin ldris Shah. The delicacy was prepared in collaboration with Kechara Soup Kitchen.

Tengku Zatashah urged the public to nurture #SayNo2Plastic and encouraged Malaysians to bring their own tiffins and food containers when buying food at Ramadan bazaars.

"I hope that more organisations can work together with the public to protect our environment to be clean and free from plastic," she said.

-- BERNAMA

.....